Preschool Lesson 8: Spanish Days of the Week Activities
Inside: A preschool lesson for Spanish days of the week activities, through comprehensible stories, songs, and input.
Lesson 8 Goals: I can say the days of the week.
Target Structures: lunes, martes, miércoles, jueves, viernes, sábado, domingo (optional: hace calor, hace frío, está lloviendo, está nevando, está nublado, hace sol)
Review: Sings the songs learned so far and do the ¿Cómo te llamas? ball chant.
Click to see my outline of Preschool Spanish Lessons for Los pollitos dicen. (Each lesson provides enough material for multiple classes.)
LESSON 8 ACTIVITIES
ACTIVITY 1
Introduce the days of the week as a song. I like to sing them to the tune of Frere Jacques, or the YouTube version by Miss Rosí (see below YouTube links for the song).
ACTIVITY 2
Activity 3: Tell the story El cerdito que tiene hambre. (Available as a PPT in the pack– you can turn the sound down on the video to narrate yourself.) You may want to add in gestures and exaggerate here and there to make sure everything is comprehensible, and of course check for understanding as you go.
ACTIVITY 3
Add calendar time to your classes and use the time to talk about what day it is and what the weather is like. If you want to stay simple, just ask about the weather using hace frío and hace calor, or add in the additional weather terms if desired. We always start off class with the Buenos días song from Lesson 1. Now that the students are learning the days, you can adjust the lyrics like this (credit to for the idea goes to Jane Vander Beek):
Buenos días, hoy es __________. ¿Cómo estás? ¿Cómo estás? Muy bien, gracias, muy bien gracias, ¿Y usted? ¿Y usted?
ACTIVITY 4
El cerdito pequeño leads well into the La oruga muy hambrienta. Of course, a lot of the original vocabulary will be out of bounds, so you could narrate the story as a MovieTalk or BookTalk– tell the story using familiar words, so everything you say is comprehensible. If you do want to use the authentic language, then it might be fun to let the kids listen to the book and see what words they can catch.
MORE SPANISH DAYS OF THE WEEK ACTIVITIES:
If you want to expand on weather and calendar terms,try these videos:
WANT MORE?
If you like this lesson, click to purchase the whole unit! You'll get a bonus PPT story, printable mini-books, and more.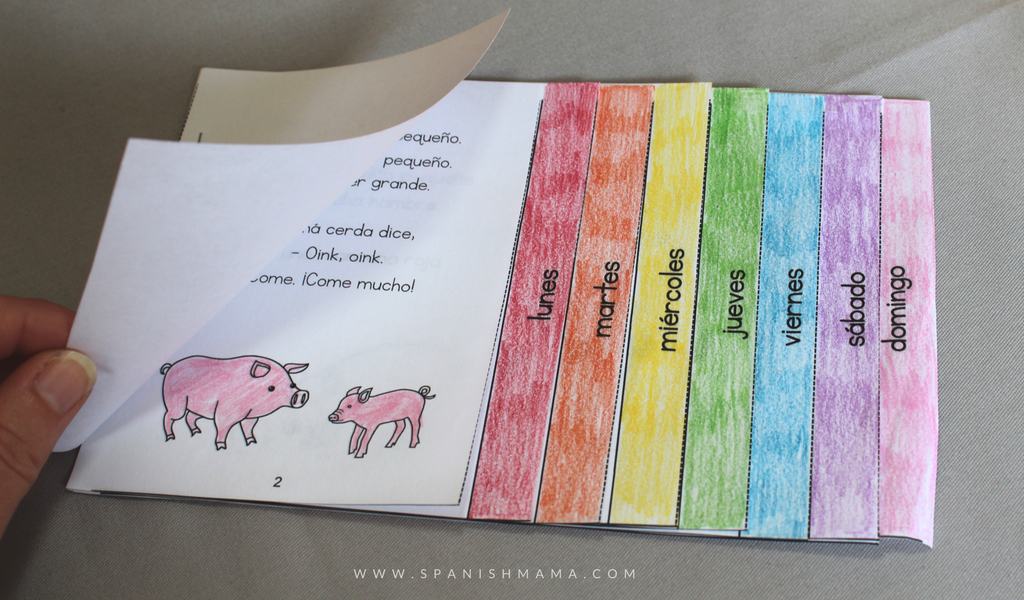 Join the newsletter
Want to stay in touch and hear from me weekly?

Sign up now and you'll get this free game set.