The Best Netflix Movies Set in Spain
Inside: The best Netflix Spain movies. 
Netflix, with its ever-expanding range of options, has a growing selection of Spanish movies and shows. Their fastest-growing Spanish-language content appears to be films or shows from Spain, whose history of cinematography stretches back to the very early years of filmmaking.
If you're searching specifically for Netflix Spain movies, I've got some great titles for you here! Whether you're a native speaker or looking to keep up your Spanish skills, there are a variety of genres to choose from.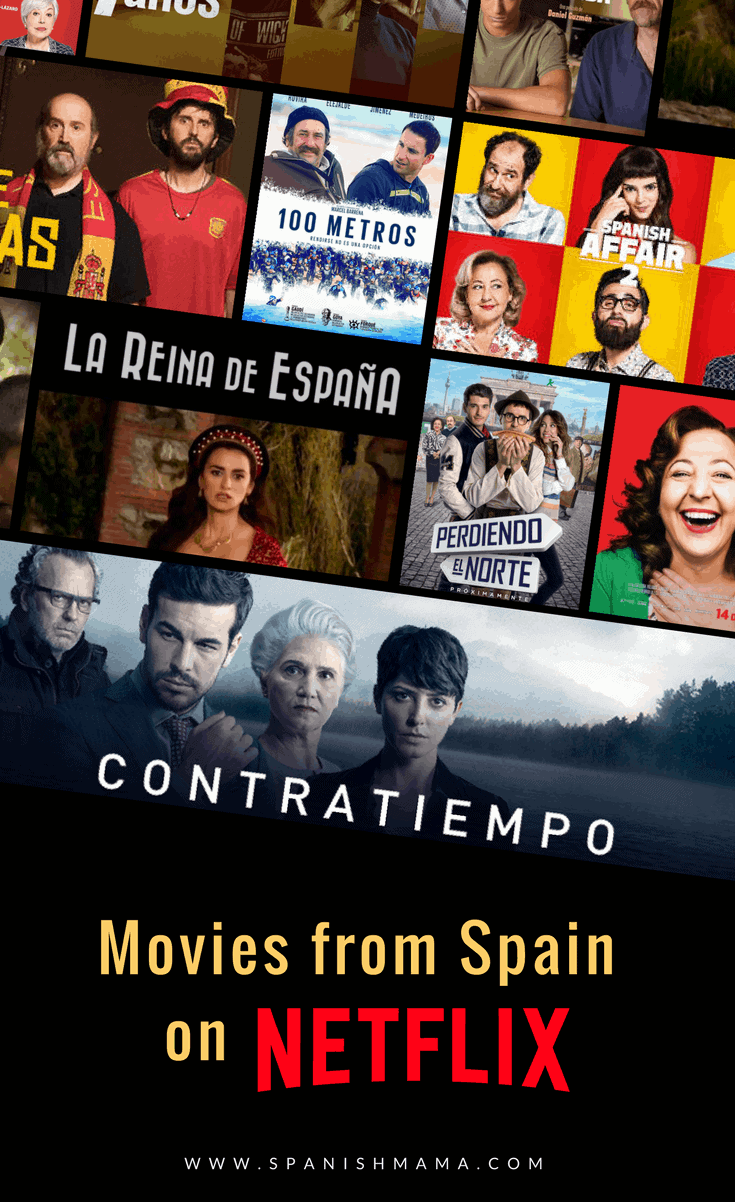 You might like: Spanish movies and shows.
NETFLIX SPAIN MOVIES
Remember that Netflix regularly adds and pulls shows, so let me know in the comments below if I missed one of your favorite made-in-Spain movies!
Ready? Let's get started.
1. CONTRATIEMPO (INVISIBLE GUEST)
A wealthy businessman is accused of murder and seeks the help of a famous lawyer to mount a defense as the last hours of his trial wind down. His storytelling of those events takes us down a darkening path of twists and turns, and unexpected revelations. I multitasked quite a bit while preparing this blog post and watched movies, but this movie had my full attention, and me on the edge of my seat. If you like suspense, this is a must-watch with incredible acting.
Info: Mystery, Thriller | Spanish/English Audio, Subtitles | 2017
2. PERDIENDO EL NORTE (OFF COURSE)
A light-hearted comedy about two Spaniards who can't find a job in Spain (despite being over-qualified on paper). Fed up with Spanish life, they move to Berlin in hopes of finding work, only to end up in a café. Life in Berlin comes with new romance, but also a host of cultural differences to navigate.
Info: Romantic Comedy | Spanish/English Audio, Subtitles | 2015
3. TOC TOC
A group of patients with OCD somehow all end up in a waiting room together, to see their doctor who is delayed by a flight. In the meantime, they have to figure out manage their quirks and anxieties while trapped in a room together. It's a surprisingly funny and clever movie.
Info: Comedy | Spanish/English Audio, Subtitles | 2017
4. OCHO APELLIDOS (SPANISH AFFAIR)
"Cuando el sur y el norte chocan, el conflicto alcanza proporciones épicas." Spanish culture collides when a Sevillian falls for a woman from Basque– even though he's never before left his hometown. I didn't love the chemistry between the main actors, but still enjoyable and cute.
Info: Romance, Comedy |  Spanish Audio  |  2014
5. OCHO APELLIDOS CATALANES (SPANISH AFFAIR 2)
The couple we met in the Spanish Affair (Rafa and Amaia) have broken up. Amaia is engaged to a Catalonian her father doesn't like, so he enlists help from Rafa to win her back and break off the new engagement. I enjoyed this one more than the first and found it more convincing, especially the storylines between the supporting characters. If you like the Spanish Affair, definitely follow up with this one.
Info: Romance, Comedy |  Spanish Audio  |  2015
6. 100 METROS (100 METERS)
Based on a true story about a man with a young family who is diagnosed with multiple sclerosis. Determined to resist the disease as long as he can, he commits to training for an Ironman– with the help of his father-in-law, who has troubles of his own. I sobbed by the end; keep tissues nearby for this heart-wrenching and inspiring story.
Info:  Drama  |  Spanish Audio, Subtitles in English/Spanish |  2016
7. BAJO LA PIEL DE LOBO
Starring Mario Casas, Bajo la piel de lobo tells the story of an isolated, gruff trapper who buys a wife. I am not sure how to describe the film: silent, spare, difficult, and yet compelling. You can't go in expecting a neat, packaged conclusion, but it's well done with good actors.
Info:  Drama  |  Spanish Audio, Spanish/English Subtitles  |  2018
8. DURANTE A TORMENTA (MIRAGE)
What would you do if you could go back in time to save someone's life, at the cost of changing your own past?
From the director of the hit thriller The Invisible Guest comes another tale of suspense, with a butterfly effect twist. A woman moves into a new home and discovers a video camera, fraught with buried secrets and tragedy involving those who lived there before. When she inadvertently gets a peek into the past with the chance to give a warning, she accidentally alters her own story- including the presence of her daughter.
Info:  Drama, Mystery, Thriller  |  Spanish Audio, Spanish/English Subtitles  |  2018
9. EL BAR
A group of strangers are trapped together in a bar when a hidden sniper begins shooting in broad daylight. When they realize someone in the group is the target, and the government may actually be behind it all, they begin to turn on each other in a desperate attempt to survive. Very clever with a great cast!
Info:  Dark Comedy, Thriller  |  Spanish Audio, Spanish/English Subtitles  |  2017
10. FE DE ETARRAS (BOMB SCARED)
Four Basque terrorists are trying to plan an attack on Spain. They wait for orders from "above," in a Spanish apartment, and have to deal with everyday life and neighbors while unsure of the future. A dark comedy that was surprisingly compelling and funny.
Info:  Comedy  |  Spanish Audio, Subtitles  |  2017
11. LA REINA DE ESPAÑA (THE QUEEN OF SPAIN)
It's 1956, and an American film company is making a movie about Isabel and Ferdinand, at the request of Franco– and Macarena Granada, now a big name in Hollywood, returns to her native Spain after 20 years to star in it. I found it slow and forced overall, but there's a deep undercurrent of complicated Spanish history and a cast of actors that many viewers will enjoy nonetheless.
Info:  Drama  |  Spanish Audio  |  2016
12. AHORA O NUNCA (IT'S NOW OR NEVER)
A couple who got together in a fairytale high school romance is getting married. The week of the wedding turns nightmare as everything goes wrong, quirky friends and family in tow.
Info: Comedy |  Spanish Audio, Subtitles in Spanish/English  |  2015
13. NUESTROS AMANTES (OUR LOVERS)
Different from the usual rom-com storyline, this romantic "dramady" follows a couple who meet in a coffeeshop and decide to maintain an out-the-box-friendship: no exchange of personal information, and no romance. Things go beautifully until their personal lives intersect with fantasy, and they must confront reality.
Info:  Romance, Comedy  |  Spanish/English Audio, Subtitles  |  2016
14. 7 AÑOS (7 YEARS)
Four friends are in business together, and have committed tax fraud. If one of them volunteers to go to jail for seven years, the company came remain intact and the other friends can walk free. The question is which one? They hire a consultant to help decide who it should be.
Info:  Drama  |  Spanish Audio, Subtitles in English/Spanish  |  2016
15. PALMERAS EN LA NIEVE (PALM TREES IN THE SNOW)
A Spanish woman travels to Africa in hoping to unearth old family secrets, after finding a letter her dying father left behind. The story moves between her search and forbidden love in the time of colonialism.
Info:  Drama  |  Spanish Audio, Subtitles in English/Spanish  |  2015
16. A CAMBIO DE NADA (NOTHING IN RETURN)
A coming-of-age story about a troubled teenager figuring out life and getting into trouble with his best friend. Poignant at times, tough at others, A Cambio de Nada explores adolescence in the context of trouble at school, trouble at home, and finding friendship.
Info:  Drama  |  Spanish Audio, Subtitles  |  2015
17. SECUESTRO (BOY MISSING)
A young boy is kidnapped, and his suspected kidnapper gets off on a technicality. The boy's mother, a respected attorney, takes matters into her own hands and events soon spiral out of control. (I didn't actually watch this one– after becoming a mom I just can't handle scary things involving kids!)
Info:  Drama  |  Spanish Audio, Subtitles  |  2015
18. EL GUARDIÁN INVISIBLE (THE INVISIBLE GUARDIAN)
A young woman's body is found in the woods, and female inspector Salazar is put on the case. As she investigates the murder and begins to follow the case of a serial killer, she must confront her own past. (I didn't watch this one either, but if you like serial killer murder-mysteries, this one's for you.)
Info:  Thriller  |  Spanish Audio, Spanish/English Subtitles  |  2017
What other Netflix Spain movies do you recommend? Let me know in the comments below!
Like it? Pin it!