Jorge Ramos Quotes And Biography
Inside: A list of Jorge Ramos quotes, along with a biography and learning resources.
Jorge Ramos is a Mexican bilingual journalist. He is the most well-known and influential news anchor in the United States, among Spanish- language news programs.
He has interviewed multiple presidents and international leaders and is known for his advocacy of immigrants to the U.S.
If you are here specifically looking for Jorge Ramos quotes, click here to jump to that section!
Related: Famous Latinos & Hispanic Americans Home Page
Here's an index of what's included in the post. You can click on any link to jump straight to that section: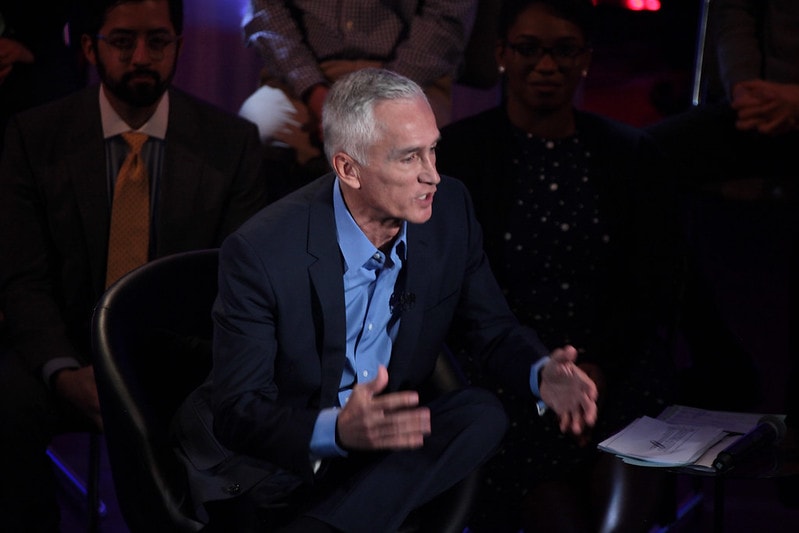 Jorge Ramos Biography
Fast Facts about Jorge Ramos

Birth: March 16, 1958
Birthplace: Mexico City, Mexico
Family: Gina Montaner (div.), Lisa Bolivar (div.), 2 children
Education: Universidad Iberoamericana, University of Miami
Career: Journalist
Famous For: Top Spanish-speaking News Anchor, TIME Magazine's List of "The World's Most Influential People".
Jorge Ramos was born March 16, 1958, in Mexico City. Ramos obtained a degree in Communication in 1981 from Ibero-American University. At his first job in Mexico City, Ramos was censured by the government. He moved to LA. in search of an environment that supported free speech, and was hired by KMEX-TV.
In 1986, at only 28 years old, he became the anchorman for Noticiero Univision. Ramos rose quickly in popularity among the Latino-American population, especially and his nightly news is the highest viewed among Hispanics.
Ramos is known for asking tough positions, spotlighting immigration, and holding leaders accountable, with programs in both Spanish and English. He is famous for scoring interviews with Fidel Castro and Nicolas Maduro, and U.S. Presidents like Barack Obama, as well as moderating a U.S. presidential debate.
In 1996, Ramos recieved his Master's in Journalism from the University of Miama. He has authored several books and newspaper columns as well.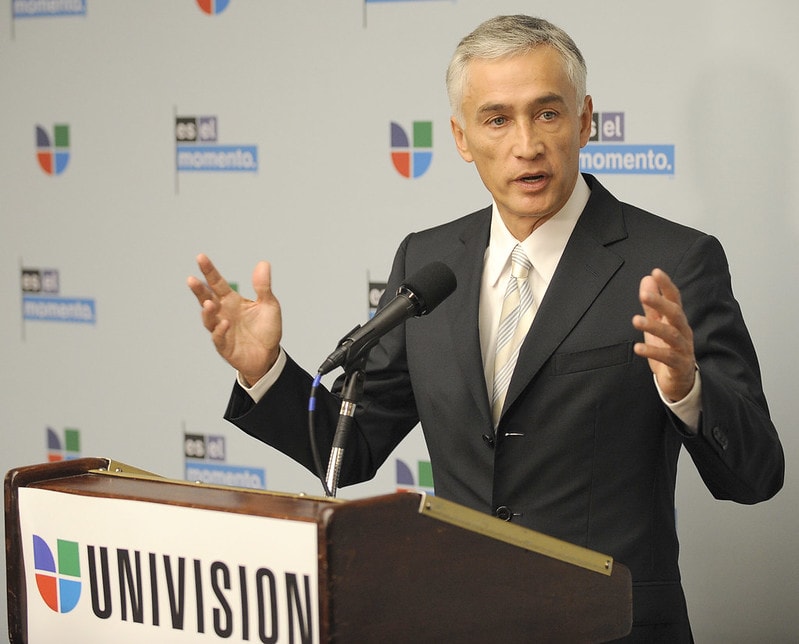 Awards:
10 Emmy Awards
Maria Moors Cabot Prize
On Time magazine's list of "The World's Most Influential People."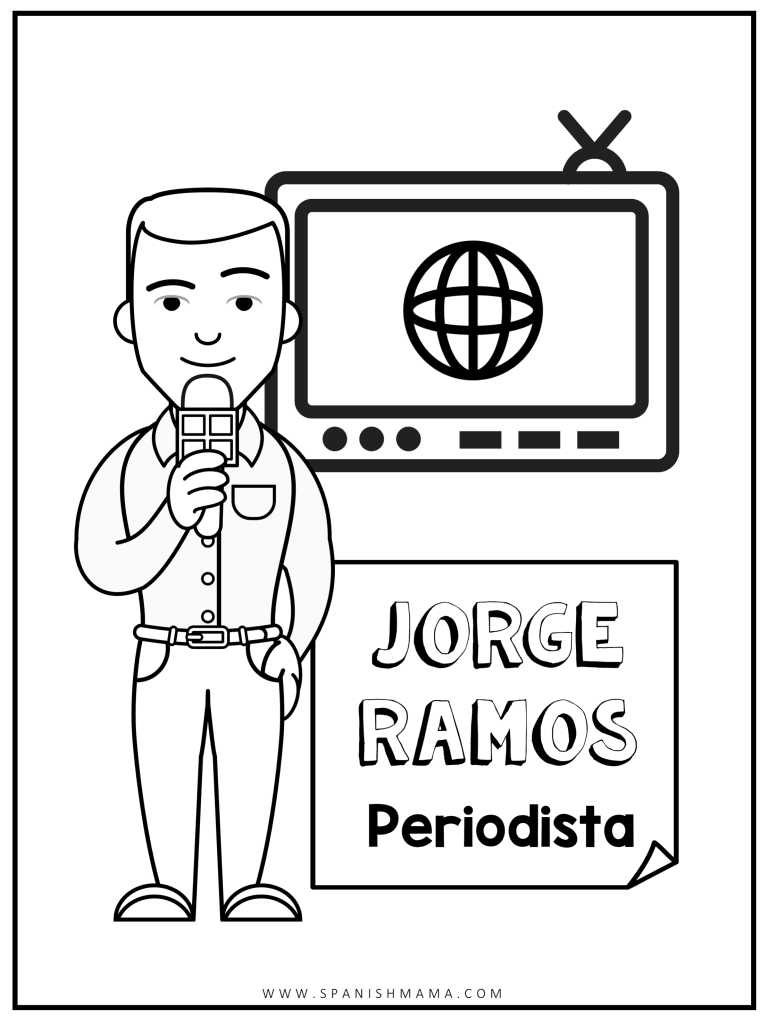 Printables and links to learn more
Free Elementary Resources:
Free printable Jorge Ramos coloring page.
Kids can read more about's Jorge Ramos' biography here.
*It was hard to find any free downloads, but if you need more lesson plans or printables, try here at Teachers Pay Teachers.
You also might be interested in my sets of biography slides and project templates for learning about Latinx and Spanish-Speaking leaders, plus a free guessing game.
Jorge Ramos Books
Jorge Ramos has written over 12 books, including one for children. (Most are available in both Spanish and English.)
These links are affiliate links.
Videos About Jorge Ramos
A biography of Jorge Ramos, produced by Univision (4m 31s):
Jorge Ramos biography in Spanish (7min 28s):
Biography of Ramos in English that highlights his work on behalf of immigrants (4min 32s):
10 Jorge Ramos Quotes
1. "As journalists, we cannot swallow the official line without question. We should challenge almost everything that dictators, presidents and officials say."
– Jorge Ramos
2. "It's a privilege to work as an anchor for Univision, but more important, I am amazed by how Latinos are transforming America."
– Jorge Ramos
3. "I'm not seeing tough questions asked on American television. I'm not seeing those correspondents that would question those in power. It's like a club. We are not asking the tough questions."
– Jorge Ramos
4. "You have to show reality as it is, not as you wish it to be."
– Jorge Ramos
5. "The United States gave me opportunities that my country of origin could not: freedom of the press and complete freedom of expression."
– Jorge Ramos
6. "My only weapon is the question."
– Jorge Ramos
7. "My only advice is, follow your dream and do whatever you like to do the most. I chose journalism because I wanted to be in the places where history was being made."
– Jorge Ramos
8. "Once you are an immigrant, you never forget that you are one."
– Jorge Ramos
9. "We in the Hispanic community are truly tired of both the Democrats and the Republicans promising all of these things during the campaigns and then forgetting about it after the campaigns are over."
– Jorge Ramos
10. "I think as journalists, we have to keep our distance from power."
– Jorge Ramos
I hope these ideas and resources were helpful to you! If you have more ideas for resources or lessons, let me know in the comments below!
Image Sources:
Image 2: "Jorge Ramos" (CC BY-SA 2.0) by Gage Skidmore
Image 3: "NASA Univision Hispanic Education Campai" (CC BY-NC-ND 2.0) by NASA HQ PHOTO