Spanish TV Shows to Use in Spanish Class
Inside: Spanish TV shows: a list of series you can (hopefully!) use in class.
If you'd mentioned movies or shows to me as a new teacher, I'd have assumed you meant how we teachers sometimes use them (hey, we've been there right?): that last day before winter break, when the stack of grading gets too high, or a weird testing day when half the class is gone.
Since then, I've realized how amazing Spanish TV shows in class can be.
We can bring native speakers straight into our classrooms. We can travel to different places and cultures. I can get them hooked onto authentic resources they'll remember for years.
Contents:

1. Using TV Shows in Spanish Class – Jump to Section

2. Free Spanish Language TV Shows – Jump to Section

3. Spanish TV Shows on Disney+ – Jump to Section

4. Spanish TV Shows on Netflix – Jump to Section
Using TV Shows in Spanish Class
When using Spanish shows in class, I vary my approaches depending on the circumstances. Sometimes I incorporate a lot of extra activities, because when it comes to TV, it's not just "listening practice."
As my classes get invested in the characters, and story, it's a really great chance to have rich discussions and readings. If the show if not immediately comprehensible to them, it takes these extra activities to turn the show into meaningful input.
Sometimes, though, if I'm sure the language is accessible, I let them get absorbed and try not to pause too often. At the end of Spanish 2, one year, we were getting frazzled and sort've limping to the end. I enacted a Spanish-only rule, and told the class that every day, for the rest of the year, I would write "10" on the board. That meant 10 minutes of Extra, at the end of class. If I heard English, I erased a minute. If I slipped into English, I added a minute.
It was so much fun, and served two purposes: motivation, and input. Because, as we all know: if it ain't compelling, they aren't acquiring much. That's why a good show is gold.
I used to use a lot of isolated listening "practice" clips that my students totally dreaded. Part of reason they dreaded those clips was that they had no relation, no meaning we cared about. But give them an interesting show, and they can't get enough. Why? Because they care about the plot and the people.
Of course, it's tough to find shows that are appropriate for middle school and high school classes. I've done my best to give an idea of content you should be aware of, but of course preview and make sure these shows will work in your situation.
If you would like to use a resource that gives some accountability and helps your students get the most they can out of watching shows or movies in class, you might be interested in my editable movie guides and graphic organizers for students.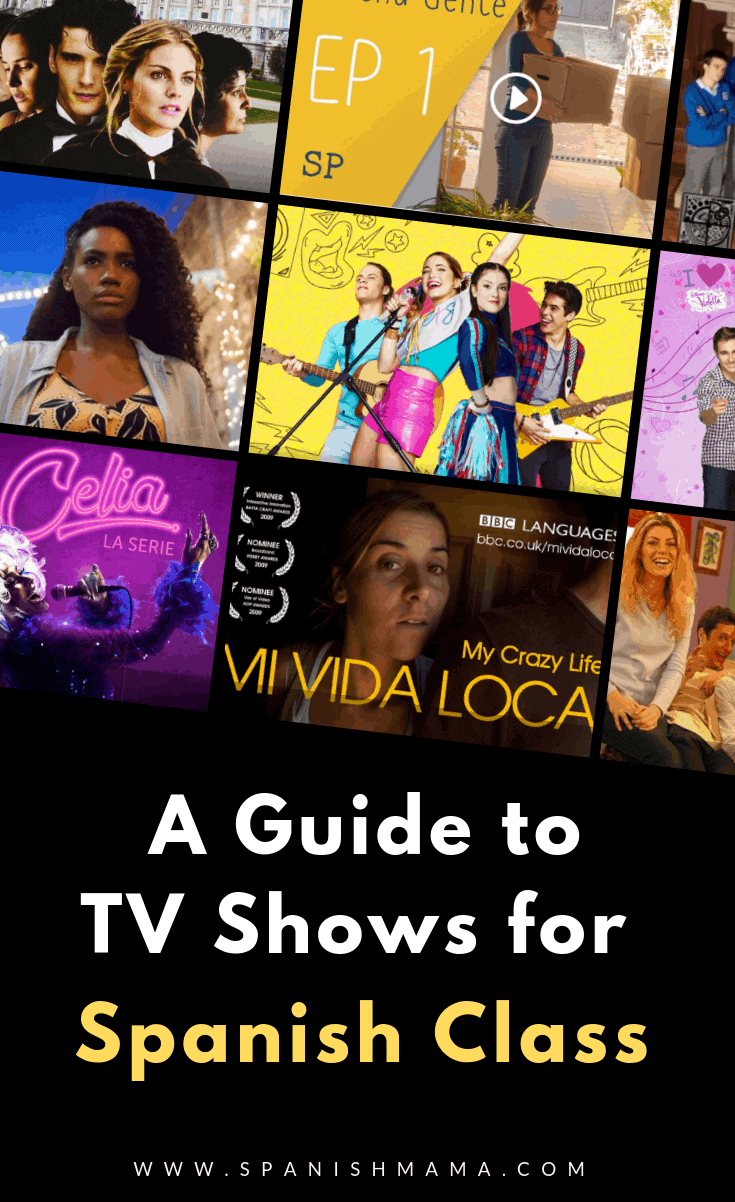 LIst of SPANISH TV SHOWS FOR CLASS
See my Spanish movies and shows page for many more Spanish-language suggestions, and of course let me know if I missed one of your favorites. You can also see Learn Spanish on YouTube for a more extensive list of videos, including shows and options for younger learners.
If you have eager students who want more practice and input at home or over summer vacation, this list can be a great source to keep them hooked on Spanish outside of class as well!
FREE SPANISH LANGUAGE TV SHOWS
Let's start off with just free Spanish TV shows you can find on YouTube or other free sources.
1. Mi Vida Loca
Designed for absolute beginners, BBC produced this free show to introduce basic language, the kind you would need to get around town while traveling. Set up as an interactive mystery show, my students really got into this one and didn't mind that it's a tiny bit outdated. This is a perfect end-of-the-year treat when students are getting restless, or to watch over the summer and keep up the language from Spanish 1. If you click on the link above, you can watch interactive lessons. If you don't have flash, you can also use the episodes on YouTube. I have a guide for all the episodes as well.
Level: Novice-Low and up
Episodes: 22
2. Extra
A loose spin-off of the sitcom Friends, Extra is fantasticfor beginners, in the sense that it provides compelling, highly comprehensible input. My students loved it and by April it was the perfect little reward to watch at the end of class, a bit each day.
However, I feel that it's often awkward and borders on inappropriate, even for high school. I usually kept my clicker in hand and skipped awkward parts; you can preview and use your judgement.
Level: Novice-High and up (with support)
Episodes: 10
3. DESTINOS
Destinos is a bit dated, but if you can get past that, it's a great resource! Follow a lawyer around the world as she tries to solve a mystery and travels the world in search of answers. This is a great way to get immersed in Spanish in the context of a telenova, with culture thrown in too.
Level: Novice-High and up (with support).
Episodes: 52
4 ¿Eres Tú, María?
Created by Realidades for Spanish beginners, this is another (somewhat dated) mystery show.
Level: Novice-Mid and up
Episodes: 10
5. La Catrina
A 17-year-old Hispanic-American studies in Mexico for the summer.
Episodes: 14
Level: Novice-High and up (with support)
6. Violetta
Many teachers showed Disney's Violetta– about a musically gifted teen who moves to Buenos Aires– when it was on Netflix, but it's since been removed. Most of the DVDs on Amazon seem to be foreign (do you hear us, Disney/Amazon? We want to give you our money), but there are episodes available on Vimeo and YouTube (I have no idea how long these will be there).
7. Buena Gentea
Buena Gente is designed for beginners, and follows Mateo and Sofia searching for clues about a mysterious box left in their apartment in Mexico. This is a new series with clearer and more modern visuals than some of the other series mentioned!
SPANISH TV SHOWS ON DISNEY+
1. Tierra Incógnita
Tierra Incognita is an Argentine horror show (but by Disney, so tame enough for most high school settings). Eric's parents disappeared eight years ago. As the series starts, he returns to his hometown to discover the what happened to his family. With his sister Uma and some friends, he is led to the eerie Tierra Incógnita horror theme park and must navigate a series of puzzles to find out the truth about his past.
2. Soy Luna
An Argentine telenovela produced in partnership with Disney, this series is currently on Disney+ in some countries. A teenage girl who loves to skate moves to Buenos Aires with her parents. I haven't watched the entire show, but it looks appropriate for middle school and along the veins of Violetta. (If this isn't available for you in the U.S., you still *may* be able to access by using a VPN and selecting a Spanish-speaking country on your device.)
SPANISH TV SHOWS ON NETFLIX
All of these are authentic shows, and only truly "comprehensible" to Intermediate-Mid or High and up. However, many teachers have developed materials (readings, discussion, guides, etc) to make the material more accessible to their students.
1. Go! Vive a Tu Manera
A new Argentinian show that just landed on Netflix, Go! is a musical series from the same producers of Violetta and Soy Luna created for a pre-teen and teen audience. Mía Cáceres is a talented young singer who gets a scholarship to Saint Mary, an elite prep school with a prestigious music program. There she meets both friends and arch-enemies (namely, the daughter of the school's owners who is determined to sabotage her musical dreams).
This is your best bet for middle school and for those who need a G-rated show for high school. Netflix recommends it for ages 7+.
2. Siempre Bruja
A 17-century enslaved girl in Colombia narrowly escapes being burned at the stake as a witch by time-traveling to modern-day Cartagena. She must navigate life in the modern world while seeking to rescue her 17th-century lover from being killed. (I haven't finished this series yet, personally, but there is no nudity or language so far in the early episodes.) Although the acting is great and the scenery gorgeous, the shows disappoints with a shallow treatment of deep racial issues– something to keep in mind if you use this in class.
3. Gran Hotel
Set at the turn of the century, a young man applies for a job at a hotel to investigate his sisters' disappearance. Forbidden romance, intrigue, and danger follows as the truth comes to light.
Here are resources from Mis Clases Locas for using the show. Though it has scenes I would skip, it's one of the cleaner shows out there and really good!
4. Silvana Sin Lana
A wealthy family's life comes crashing down when the dad leaves and their fortune is lost. The mother must get a real job and the kids have to adjust to a "normal" life. I haven't seen this one to the end, but the first episodes are pretty clean and funny.
5. Nailed It México
Contestants who don't really know how to bake have to recreate masterpieces in the kitchen, in competition for $10,000. Light and funny to watch in class!
6. Celia
NOTE: There is a not-classroom-appropriate scene you will want to skip in the first episode.
Learn the story behind the Queen of Salsa: how she began her career in the tumultuous years of Cuba in the 50's, and eventually rose to be one of the top salsa performers of all time. Gorgeous filming and music in this series.
7. El Internado (The Boarding School)
Students in an isolated boarding school become involved in mysterious events and dark secrets from the past, as friendships and loyalties are tested. (Sidenote: I haven't watched the wholes series. It's VERY popular among many amazing teachers, who choose to skip over some scenes. There is language, and if you put on English subtitles, the language gets translated more strongly than in the original Spanish. I didn't feel comfortable using it in my own classroom, but you decide!)
Check the following resources if you plan to use the series:
Kara Jacobs
WilliamsonCI
Mis Clases Locas
What other Spanish TV shows do you recommend for using in class? Let me know in the comments below!