Spanish Scavenger Hunts (with Free Printable Checklists)
Inside: Spanish scavenger hunts for kids and teens, with free printable checklists.
Online Spanish tools are often the most practical option for distance learning. However, we don't always want our kids parked in front of a screen!
These scavenger hunts are a fun way to learn while moving around and handling real objects around the house, or around the yard.
You can use the checklists with your own kids at home, or assign them to your Spanish students.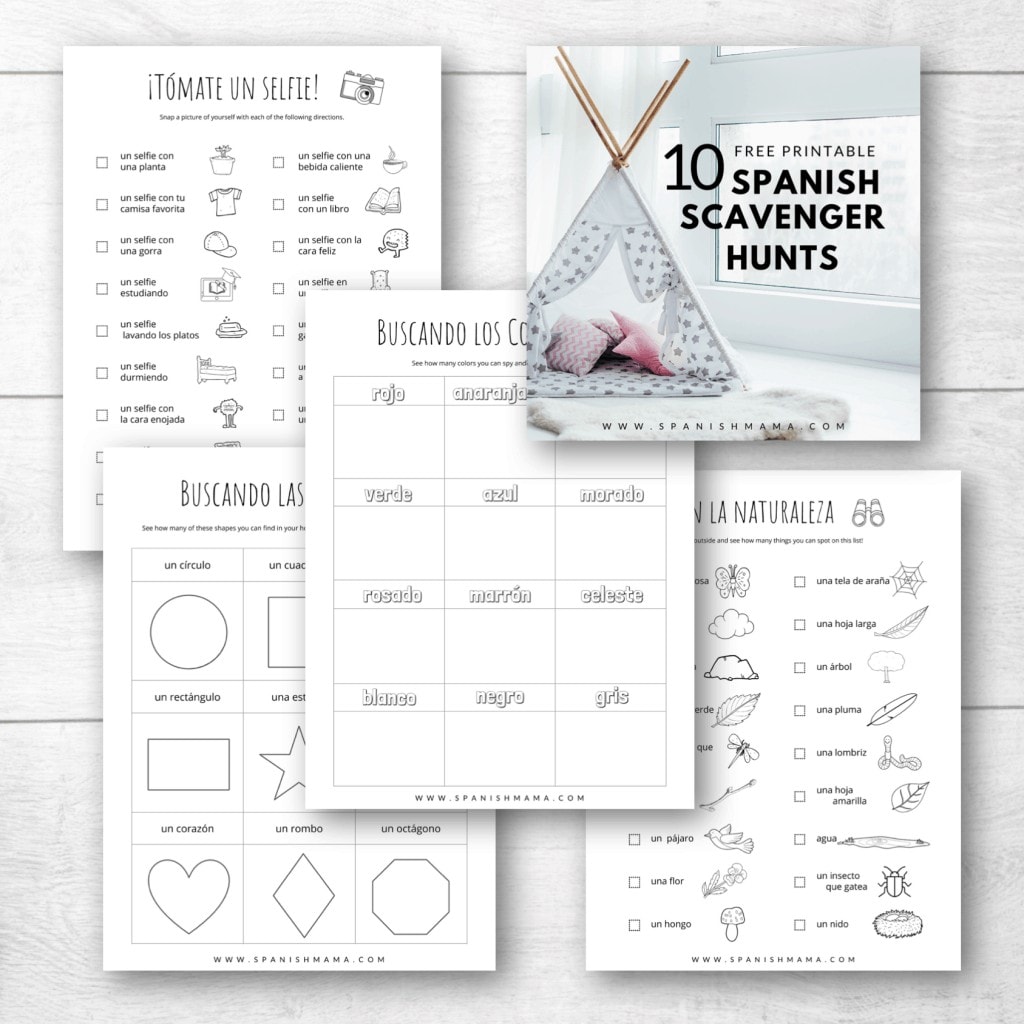 Read on for some fun ideas and tips, or go ahead fill in the form for getting your free printable scavenger hunts in Spanish.
They're editable Google Drive files, so you can make changes as needed for your kids or students. The graphics say "10 Spanish Scavenger Hunts," but the actual file is 23 pages long because I included different versions of the same idea. 🙂
**Note** A few readers have had trouble accessing the download– after confirming, you should be directed to a page where you click to make a copy of the checklists. If that doesn't work, be sure to email me at spanishm[email protected] and I can send the link right back to you.
SPANISH SCAVENGER HUNTS
​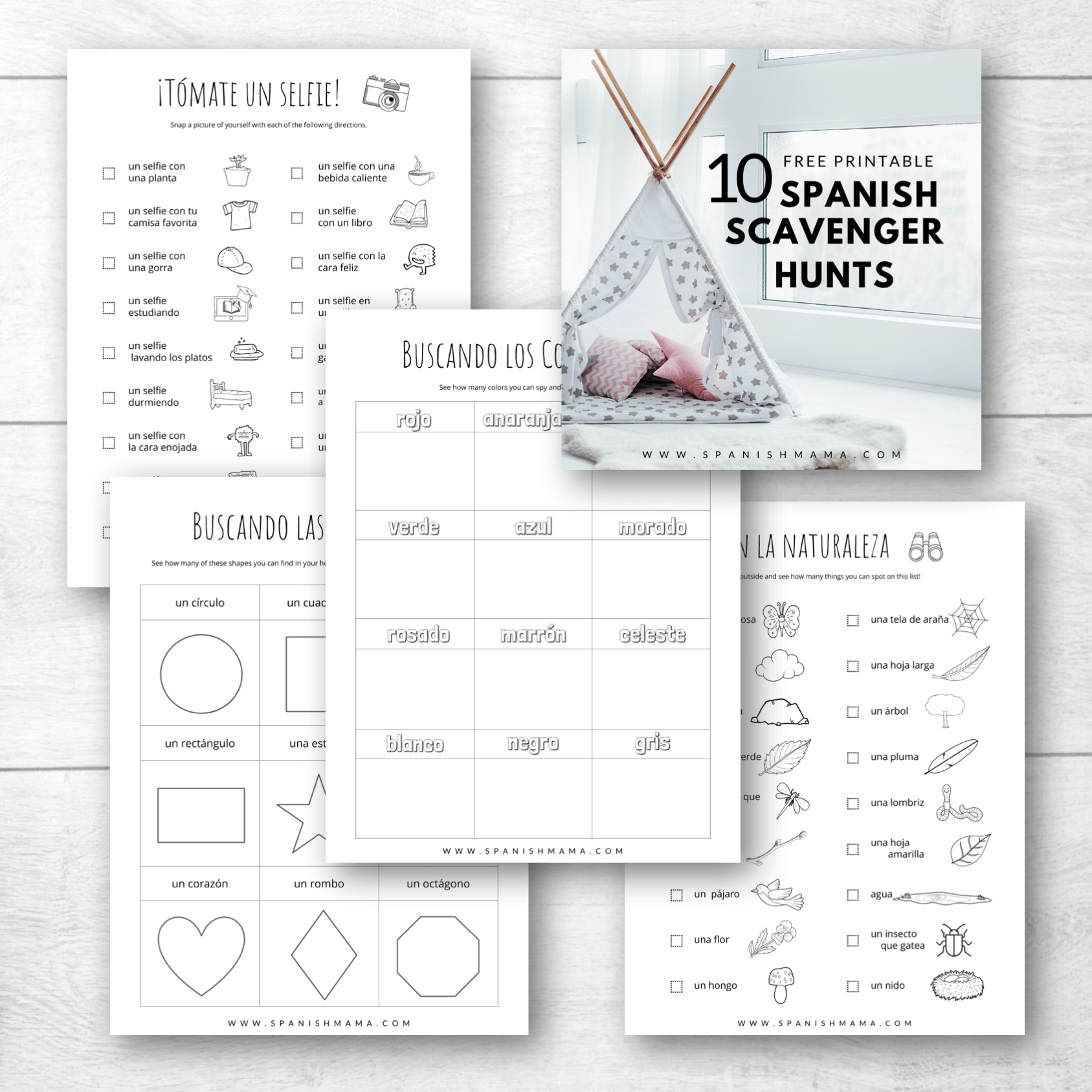 Related: 101 Spanish Activities to Do at Home
Here are some basic ideas and tips for getting started, whether your scavenger hunt is indoors or outdoors.
SPANISH SCAVENGER HUNT IDEAS
Do a hunt outside in your yard or on a walk: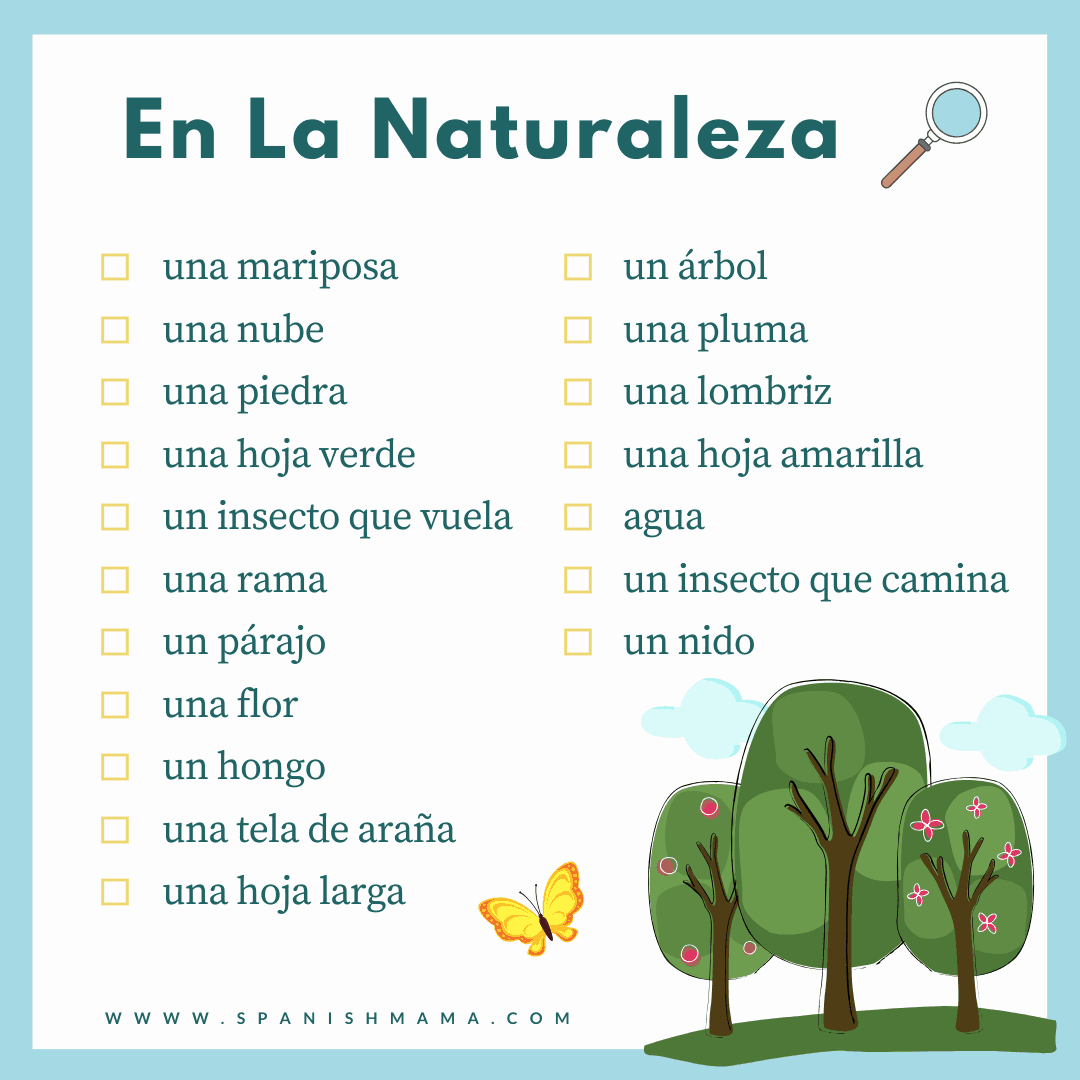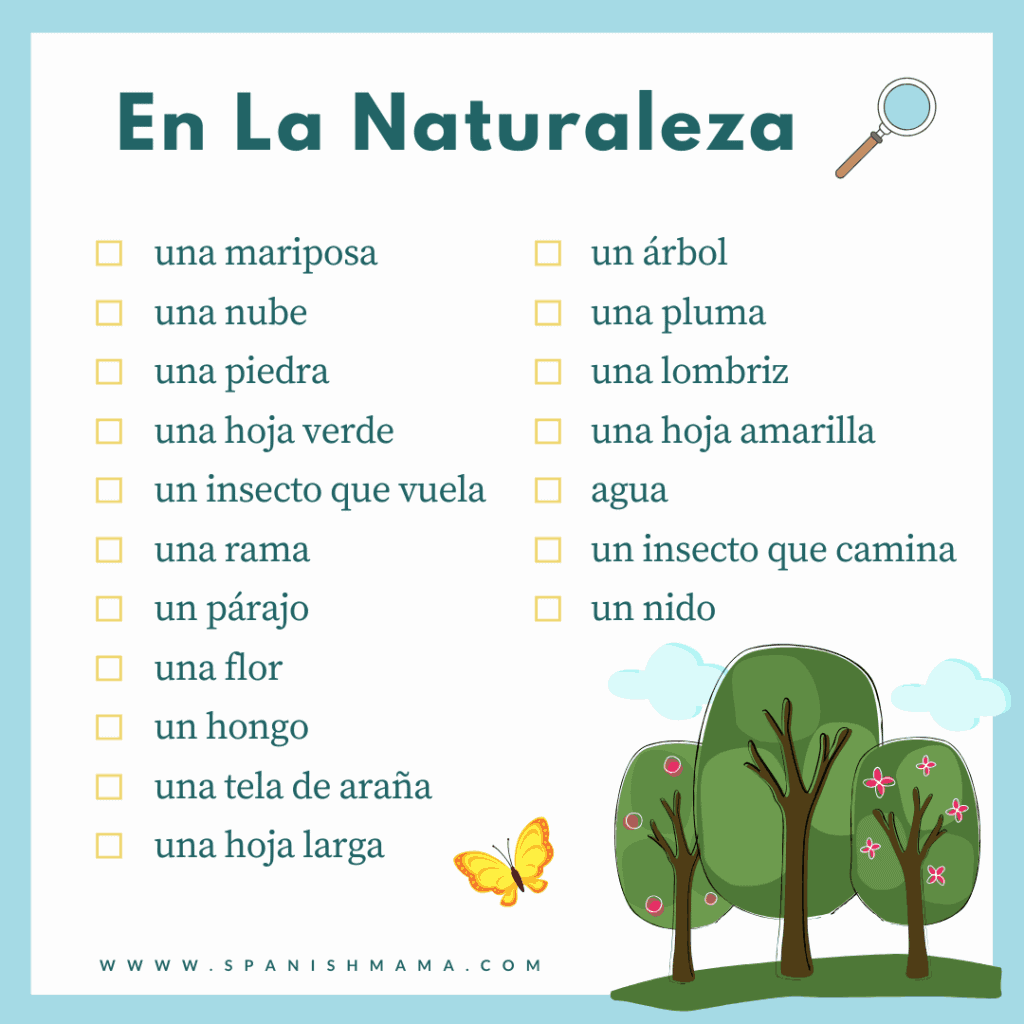 Do a search inside a house or apartment looking for everyday objects: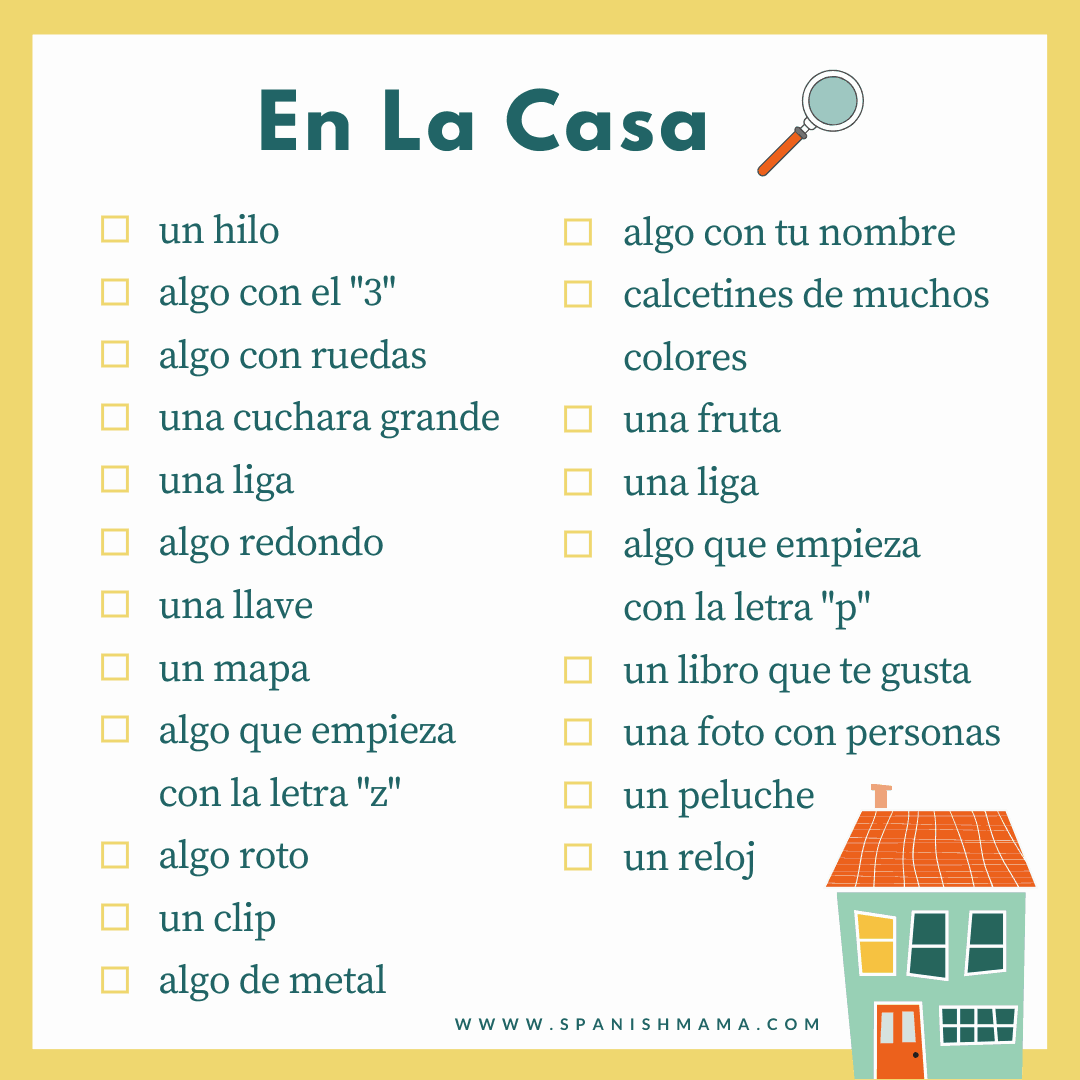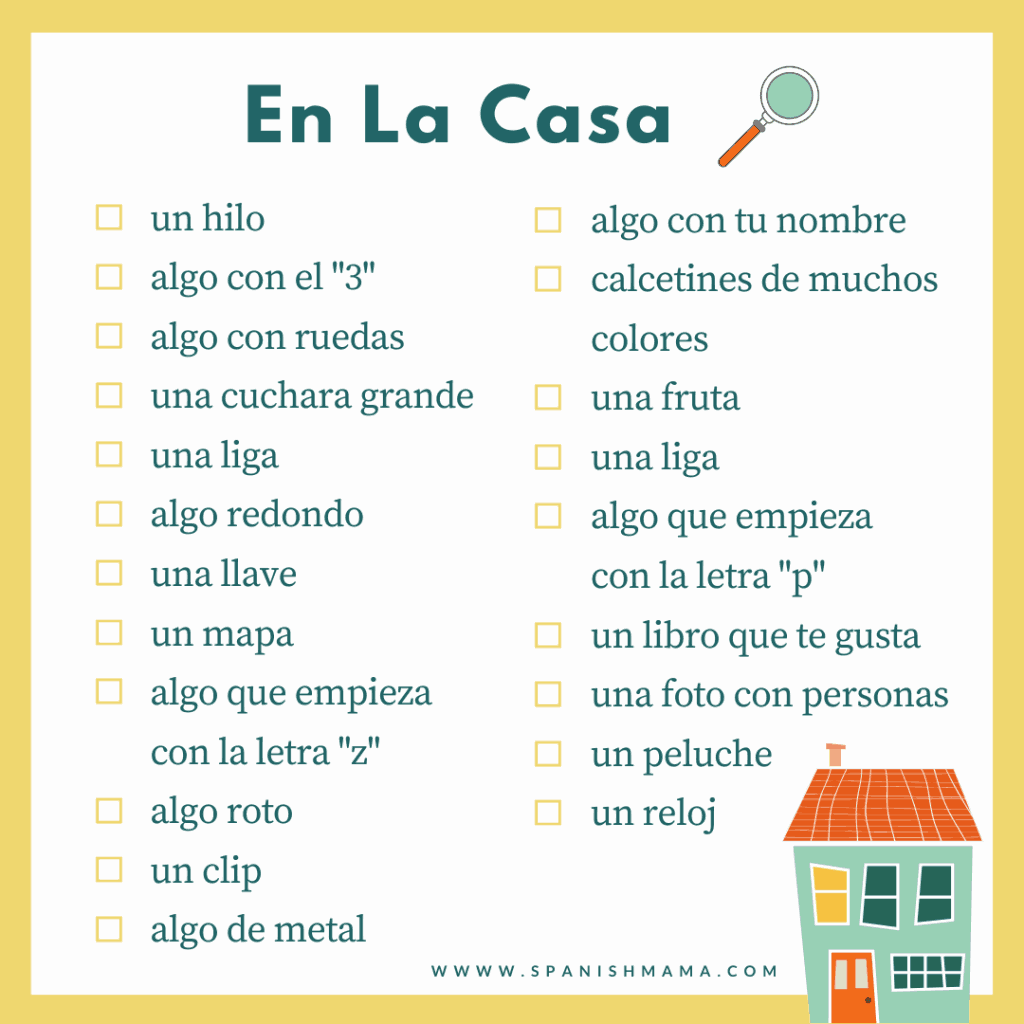 Have students make a list of drawings or pictures of things that make them happy: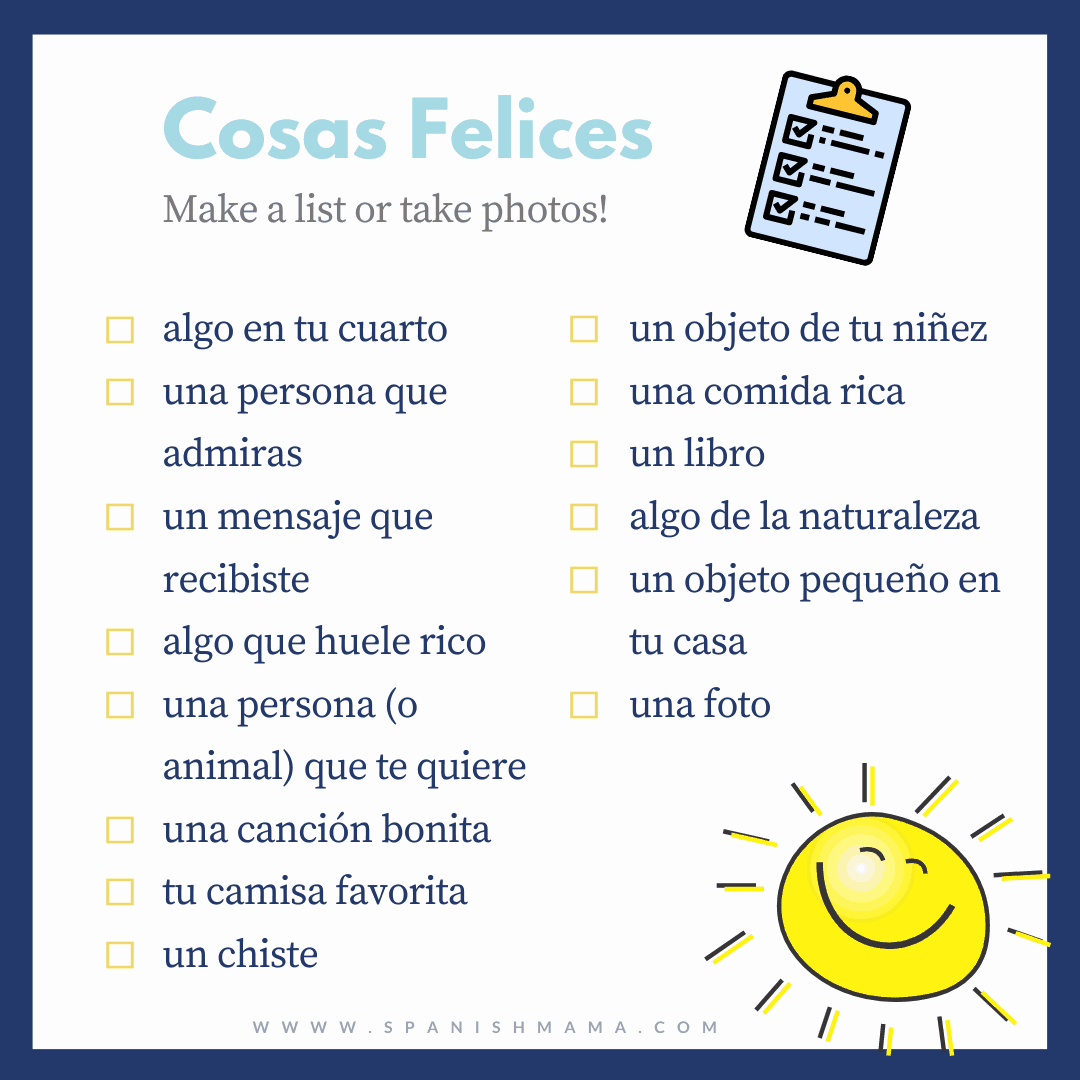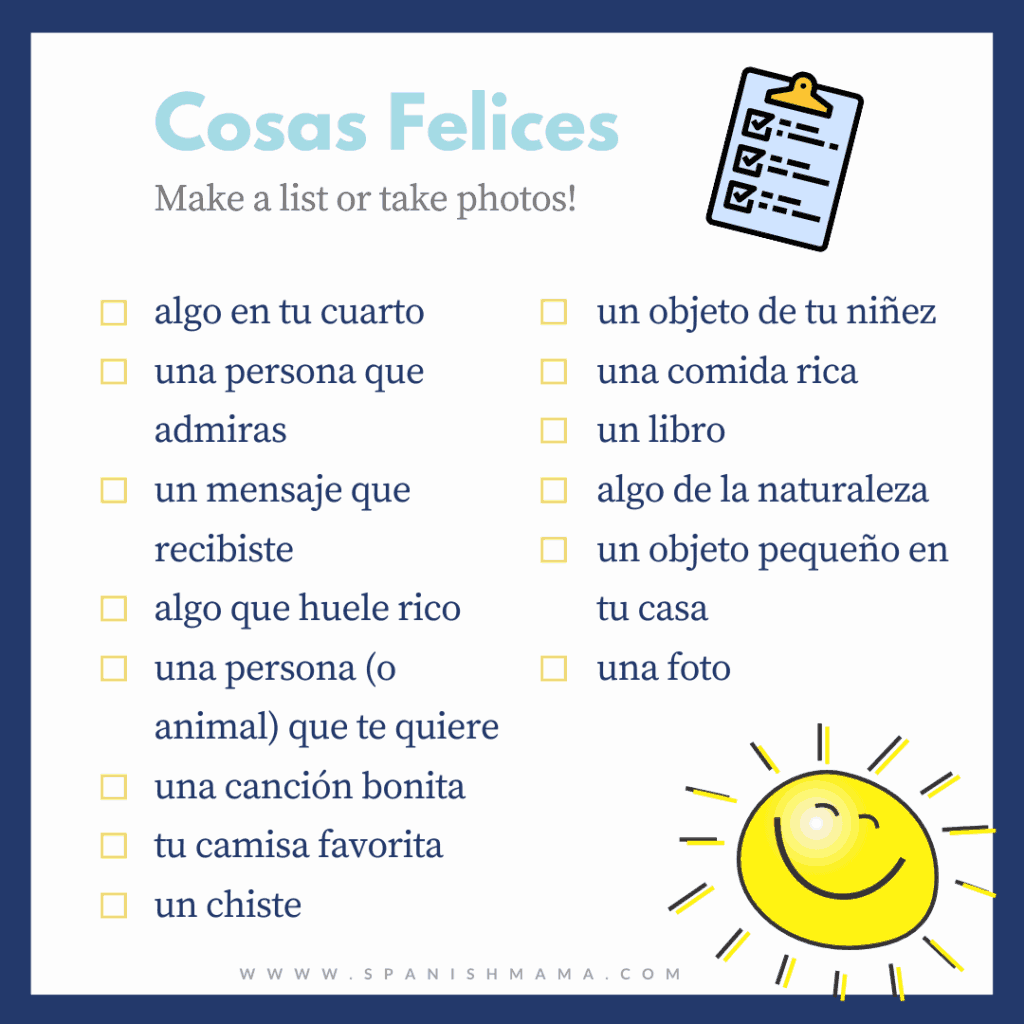 Assign a collection of selfies using objects around the house: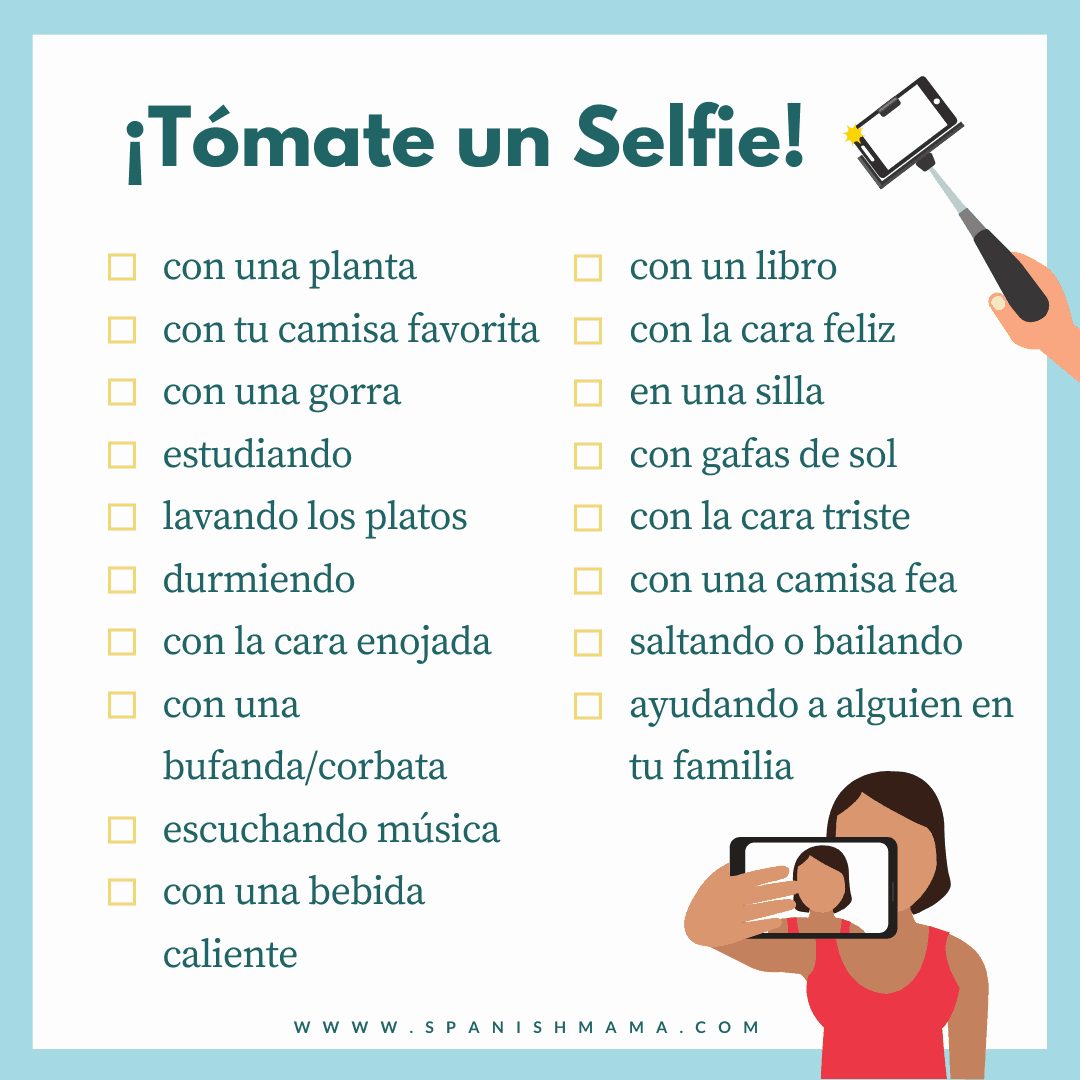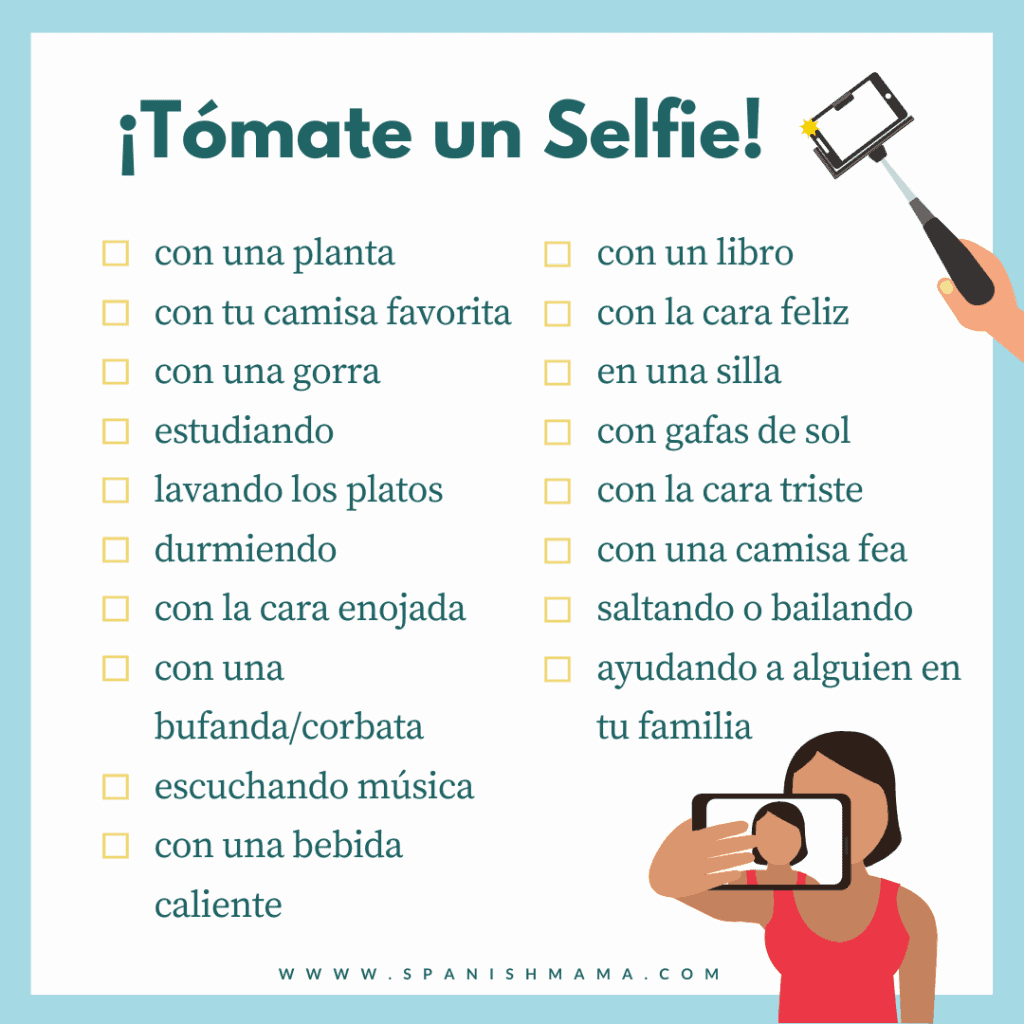 You can also practice rooms of the house with this list: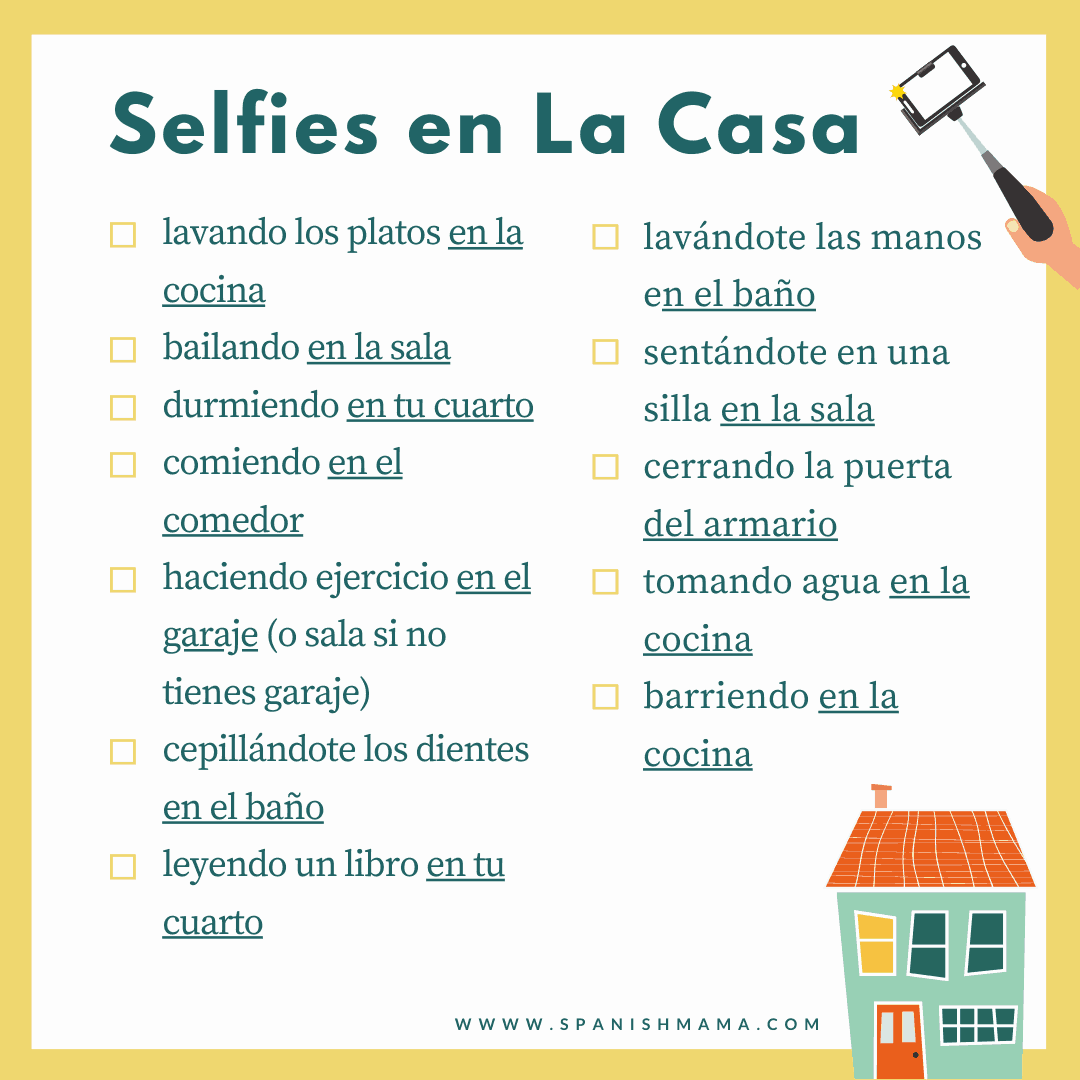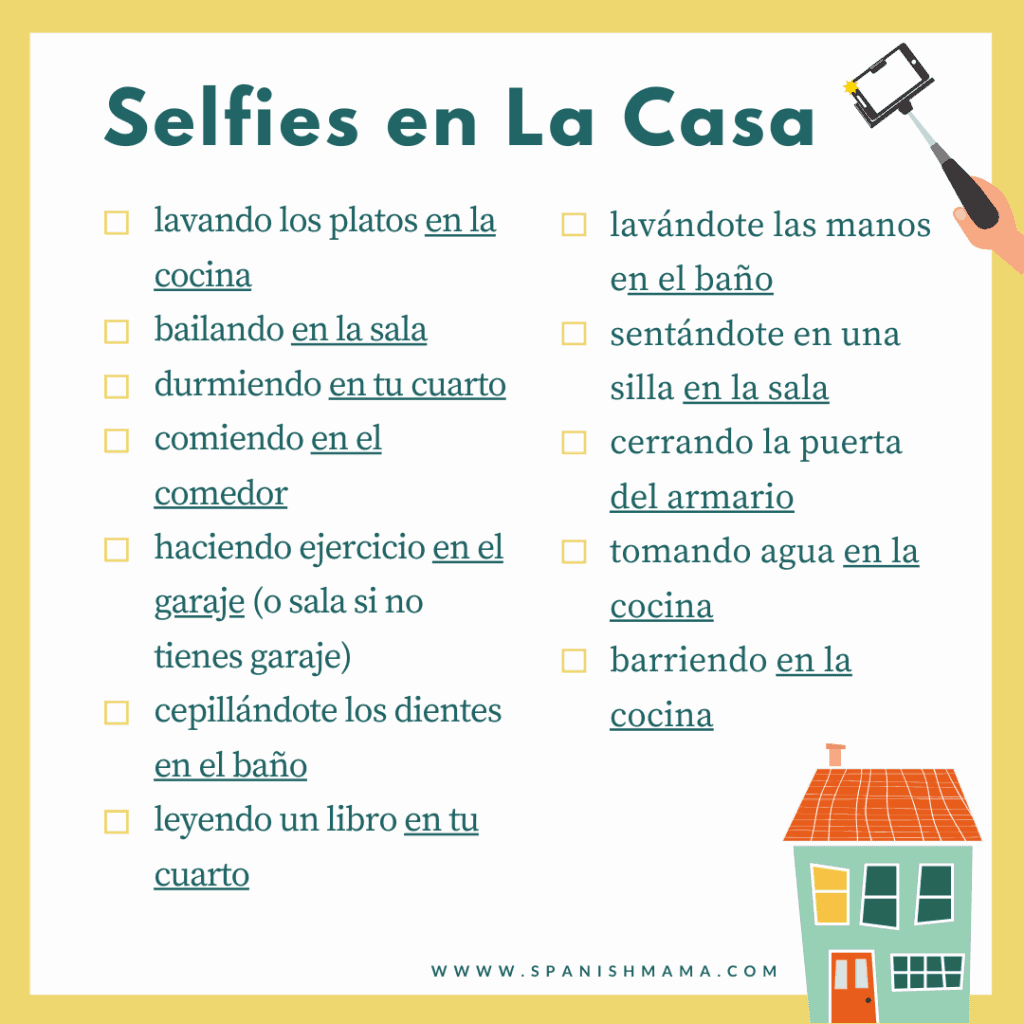 With young kids, try to find an object (or several!) for each color: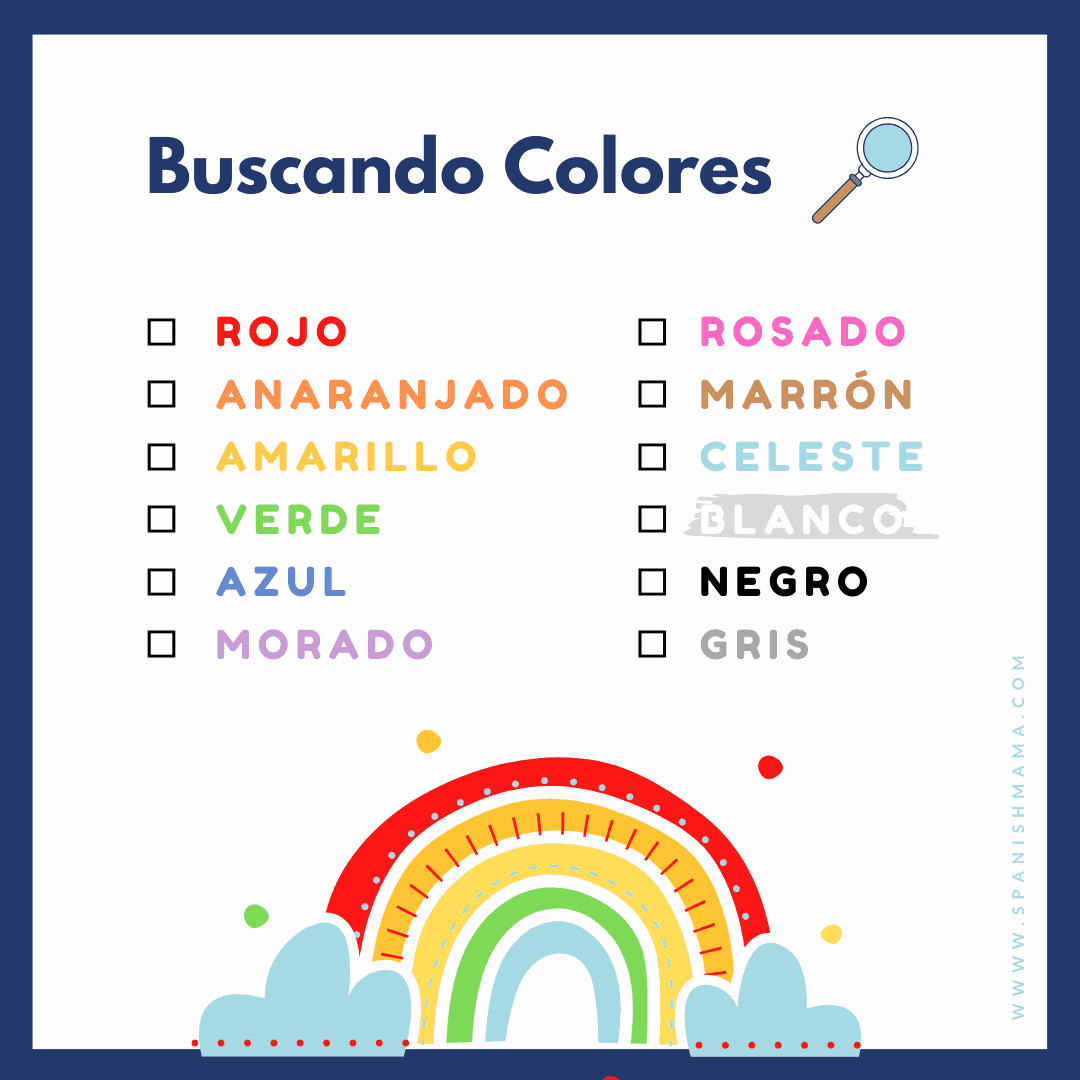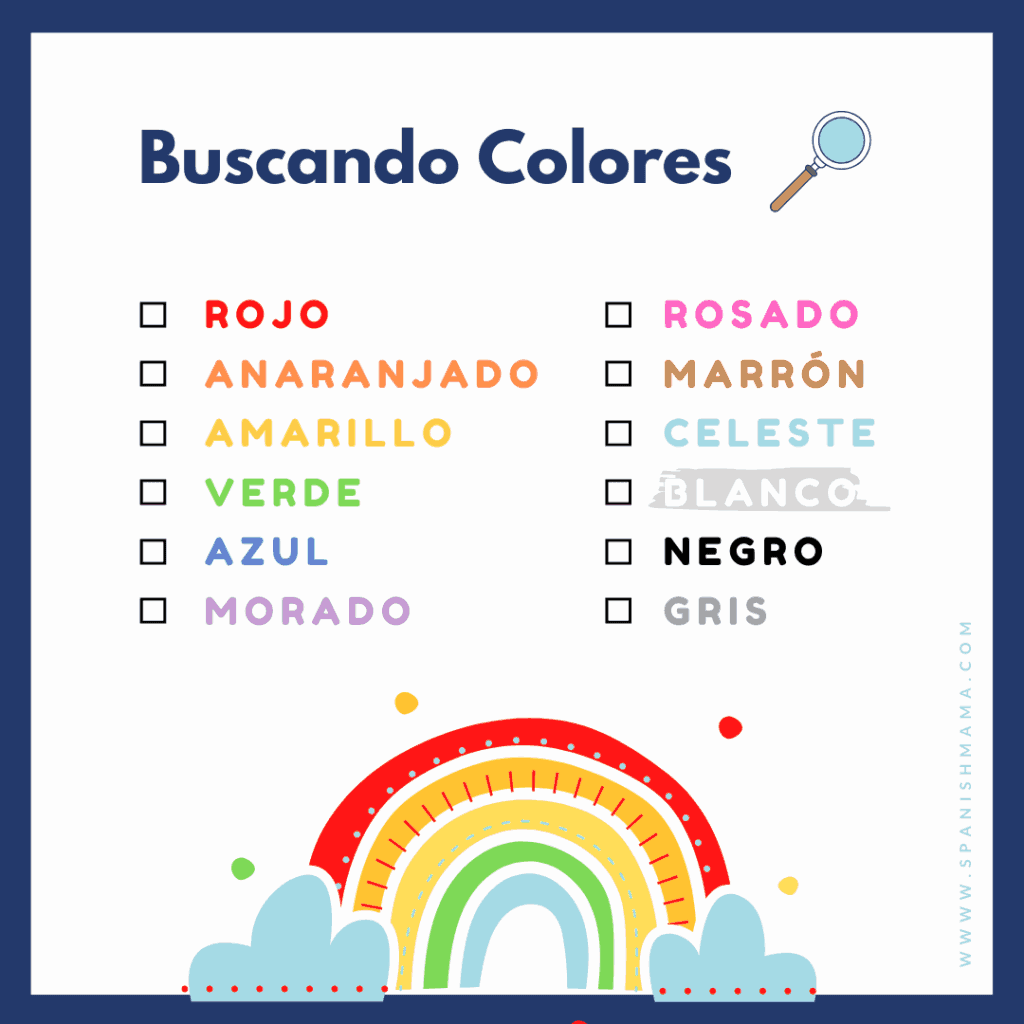 Here are some ideas for using the scavenger hunts with Spanish students.
Some scavenger hunts work best if the students actually gather the items. If you are doing live virtual classes, you will probably need to break it up. To do the colors hunt with elementary, for example, you could tell them they have a few minutes to go find something blue and something yellow.
Some of the checklists have spaces to draw something that the students spot. They could also draw what they find on a separate piece of paper and then take a picture and send it to you.
Another option is to have students follow the checklist and take one picture of everything they collected and found.
For the selfie scavenger hunts, the students can submit the photos to you by pasting the photo directly onto the list, or they could create a slides presentation and write the corresponding caption underneath the photo ("Estoy lavando los platos.")
You could also have students look through magazines and create a photo collage by spying pictures and cutting them out.
The printables include a literacy activity for looking for pictures of things that start with the vowels, and the beginning syllables for learning to read in Spanish. I only have five versions, but you can easily add and edit the syllables as you go (eventually working with three letters, as in "pla, ple, pli, plo, plu.")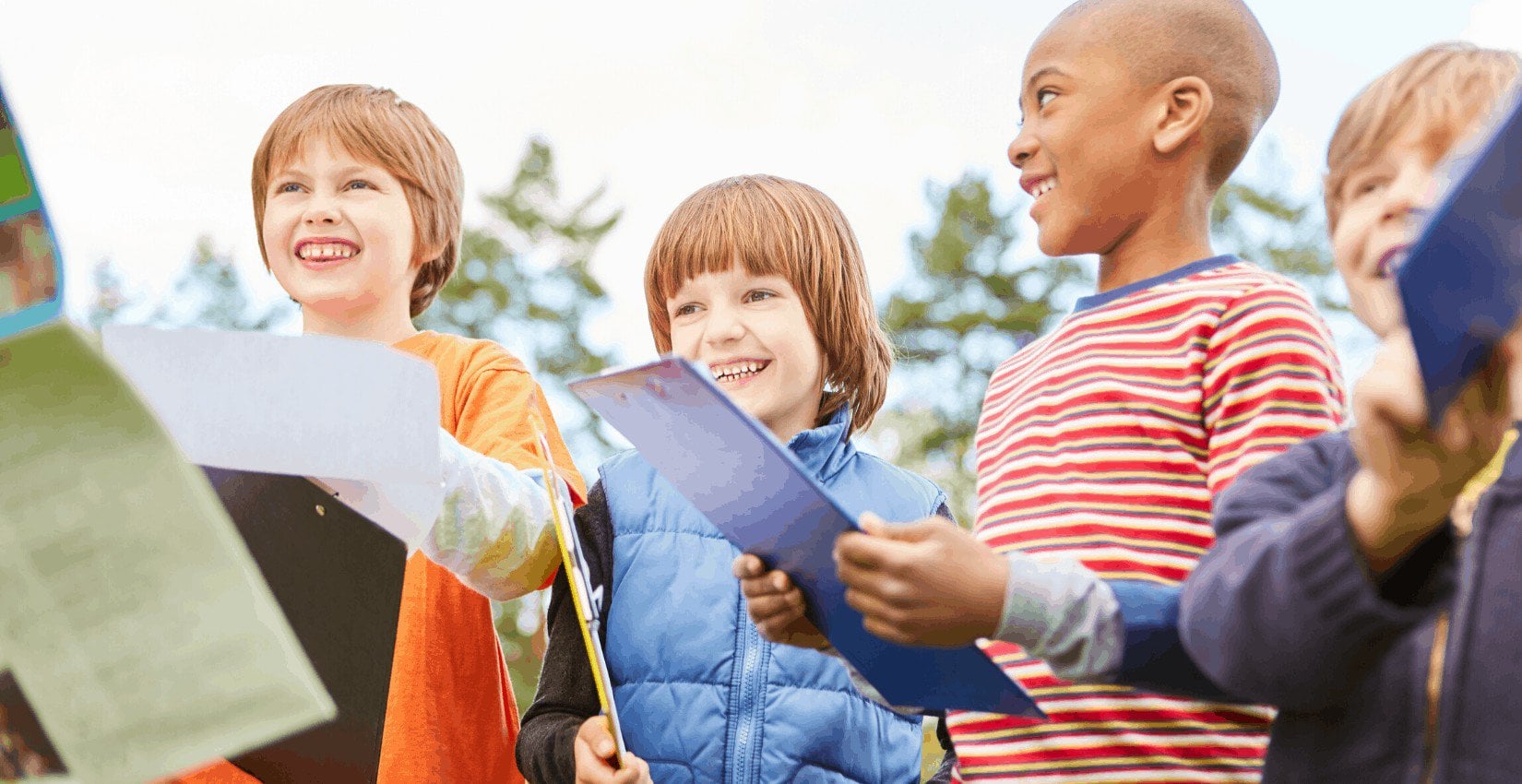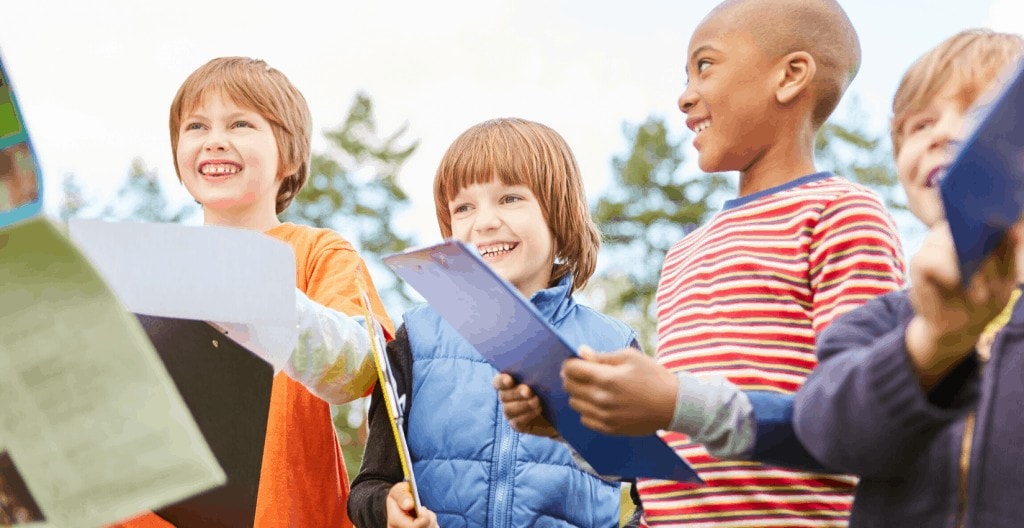 One caution: always keep in mind the context of your students' home lives. I tried to be sensitive to this by choosing readily available and common objects, omitting spaces like a laundry room in the home search, and giving options in some cases. You can adjust my lists as needed, as well.
Also keep in mind that some students may not want to share pictures from inside their home or with their families. I just recommend using your judgement for what's appropriate in your situation.
What other ideas do you have for a Spanish scavenger hunt at home? Let me know in the comments below!
Like it? Pin it!