Cinco de Mayo Activities for Spanish Class
Inside: A round-up of Cinco de Mayo activities for the Spanish classroom.
Cinco de Mayo is a weird day if you're a Spanish teacher. On the one hand, you might recoil at the mass production of stereotypes: sombreros, margaritas, and moustaches will undoubtedly abound May 5th. This is what you get when you type "Cinco de Mayo" into Amazon: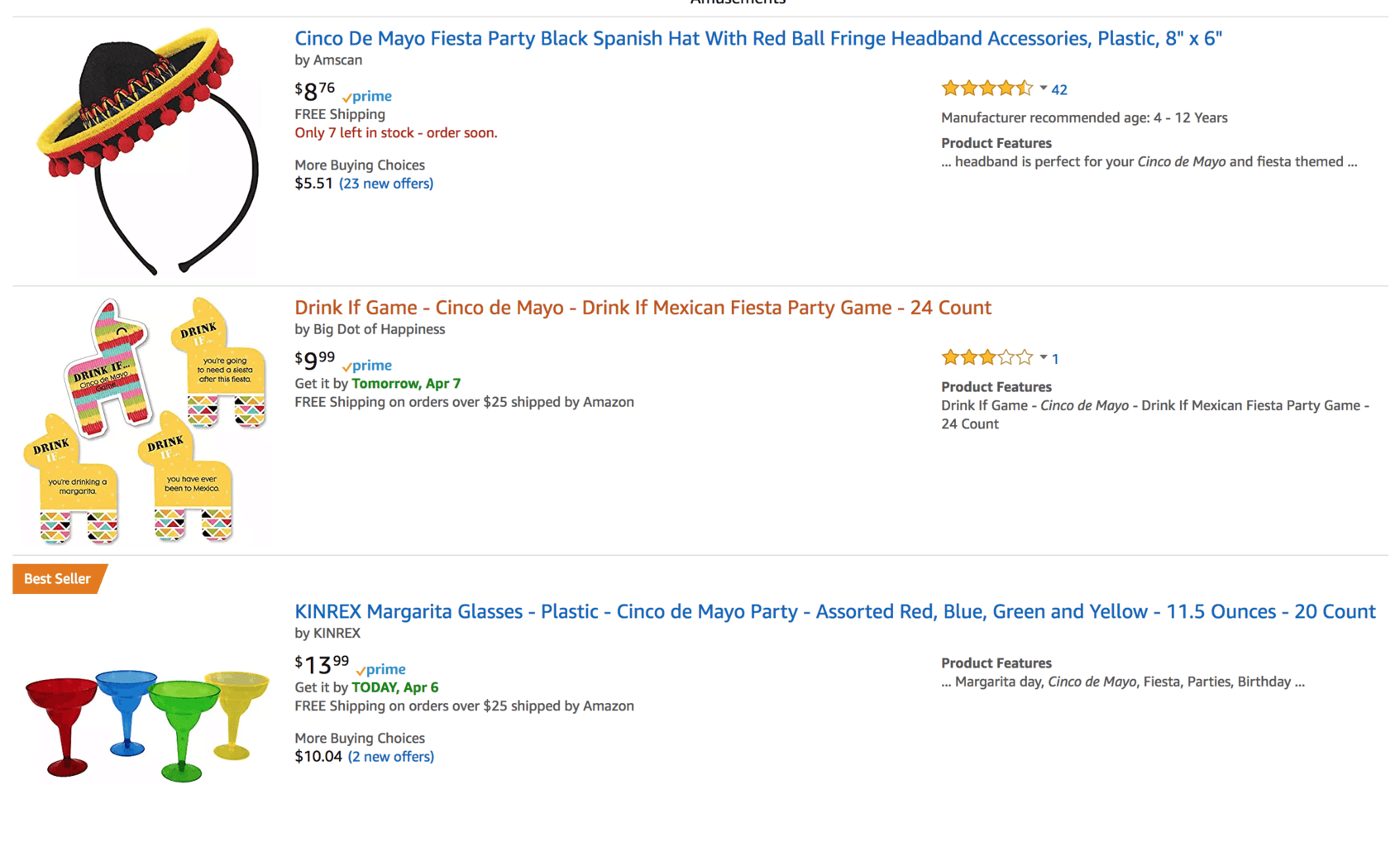 I know… cringe.
If you choose not to teach about Cinco de Mayo, I get it and respect it. There are many other cultural topics to dive into with your Spanish students!
On the other, hand, there's a huge interest in the day in general. It's a great chance to bust common myths and stereotypes.
You can guide your students to authentic Mexican culture, if you choose to look at it that way. You can make sure your students understand it's not Mexico's independence day (that's September 16), and teach some of real history behind the day.
Related: What's So Bad About a Sombrero Selfie?
Why is Cinco de Mayo Celebrated in the United States?
The explanation as to why Cinco de Mayo is celebrated so widely in the U.S. is a bit muddied. Some speculate the reasons go back to California during the war with France, the Chicano Power movement in the 60's, or beer companies that hijacked the holiday in the 80's. In some places, Latinos are proactively planning events and naming it "Semana de la Raza."
While the holiday may not be a big deal in Mexico–outside of Puebla, maybe– I think it makes sense to acknowledge the day within U.S. classrooms. Many Mexicans here have taken up the custom of celebrating Cinco de Mayo as a chance to celebrate their heritage and home country, with large festivals in states like Texas.
If you're unsure of the history behind the day or why we should tread with caution, I recommend reading these articles:
CINCO DE MAYO ACTIVITIES & RESOURCES
Whatever you end up doing, I have collected many resources so you can celebrate or include Cinco de Mayo activities authentically in your Spanish classroom. If you are looking for something specific, the links below can help you jump to that section. Otherwise, keep scrolling!
CINCO DE MAYO BOOKS
Read about the history of Cinco de Mayo in Mexico and the US. You could also consider reading some stories that celebrate authentic culture, like biographies of famous Mexicans or classic folktales.
IDEAS FOR THE CLASSROOM
Here are some ideas for studying the background of Cinco de Mayo with students:
Learn about La Batalla de Puebla. I've gathered lots of videos, infographs, and links below. Remember that the history of the Battle is complicated (as history always is). 
Choose to highlight authentic Mexican culture in general. If you do this, you can study how Cinco de Mayo was latched onto by Chicano activists in the 60's, and has become a time to celebrate Mexican heritage (or even Latino in general). Below you'll find links for culture-rich crafts, art, music, and activities. 
Compare/contrast St. Patrick's Day with Cinco de Mayo and how the two holidays interact with immigration, pride in one's roots and history, and commercialization.
Study and discuss the evolution of Mexican food in the U.S., and find examples of authentic dishes. If you live in an area with food trucks that offer authentic food, bring one to school for an in-school Spanish class field trip.
If you have a Spanish club, one teacher in a FB group suggested making goodie baskets and delivering them to local Mexican restaurants for the employees (who are about to be inundated with customers). This could be a wrap-up to a study of misconceptions about Cinco de Mayo, and how it has evolved in the U.S.
CINCO DE MAYO CRAFTS FOR KIDS
If you choose to use Cinco de Mayo as a way to celebrate the best of Mexican culture, here are some printables and crafts that get beyond sombreros and stay more in touch with actual culture and history.
Free mini-book about Mexico from Fun for Spanish Teachers
8 Kid-Friendly Cinco de Mayo Activities from Kid World Citizen
Frida Kahlo Activities and Free Printables for All Ages
Folk Art: Amate Painting from Kid World Citizen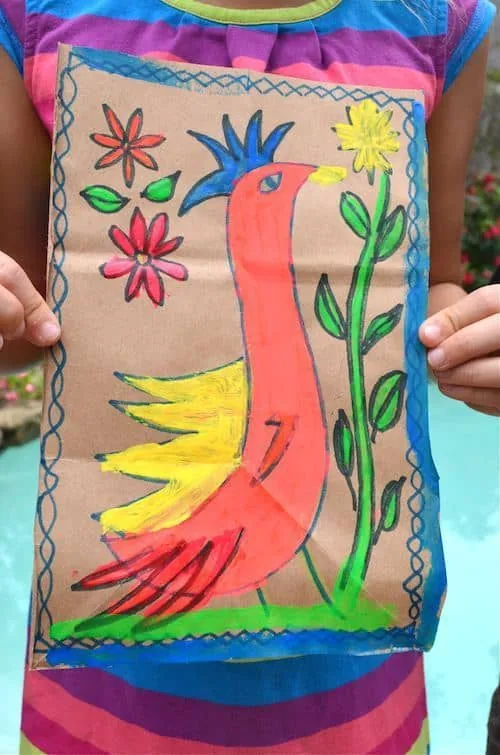 Make Paper Plate Masks from Jumpstart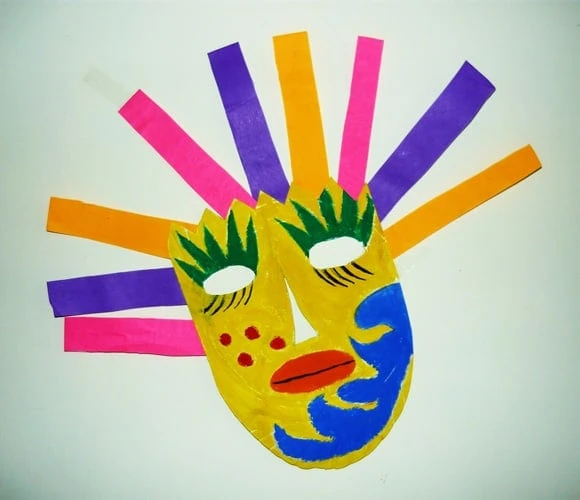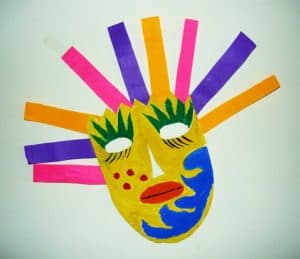 Learn about the Mexican Flag from Kid World Citizen
Mexican Inspired Yarn Art from Education.com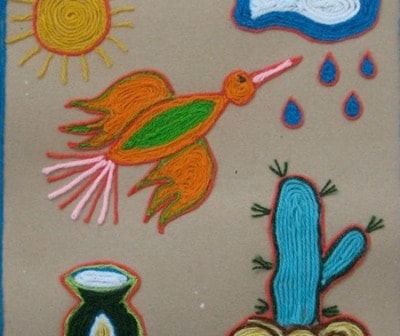 Make Ojos de Dios from Be Brave Keep Going
Mexican Tooling Art from KinderArt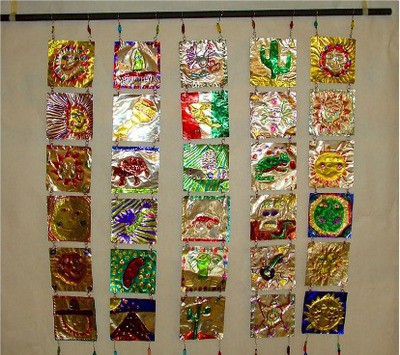 Make tissue paper flowers:
Make papel picado:
LESSONS FOR OLDER STUDENTS
Here are some free lesson aids and printables:
10 Misconceptions about Spanish Language and its Speakers PPT from Spanish Plans
Cinco de Mayo Jigsaw Puzzle from The Comprehensible Classroom (reviews history and facts)
Cinco de Mayo Jigsaw Puzzle freebie from TpT
Newsela Article in Spanish for Students on Cinco de Mayo
Los platillos que realmente habría que comer el Cinco de Mayo (Newsela Article)
#AUTHRES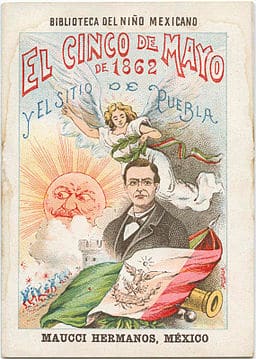 1901 poster for Cinco de Mayo by Jose Guadalupe Posada. Credit: WikiCommons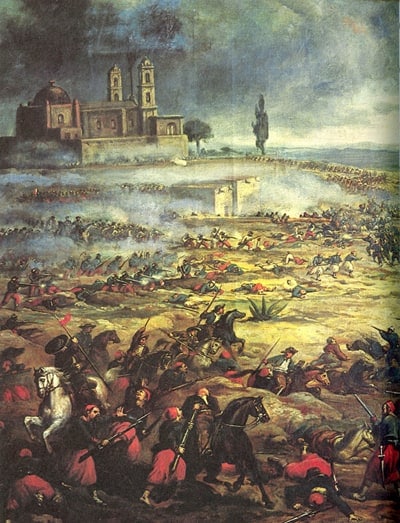 Charge of the Mexican Cavalry at the Battle of Puebla by Mike Manning. Credit: Wiki Commons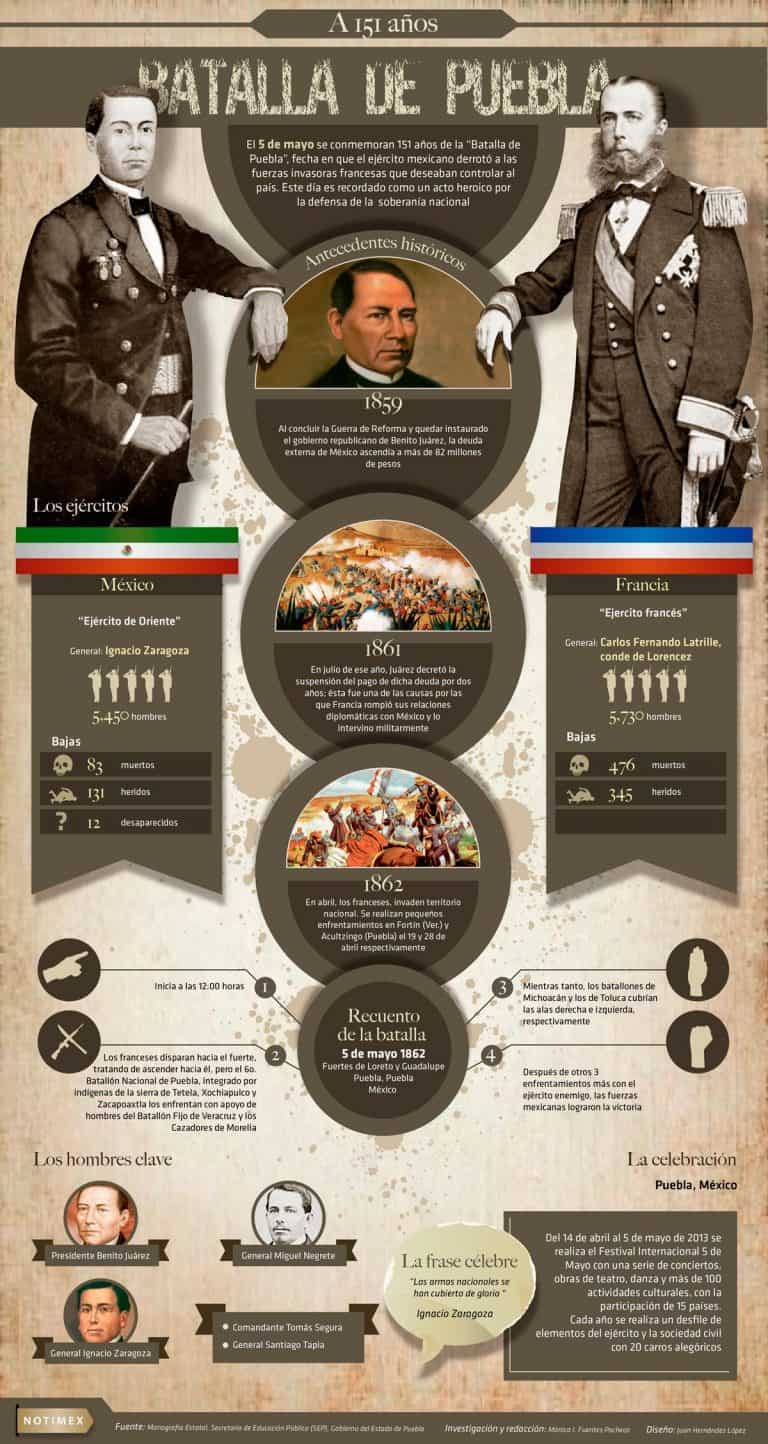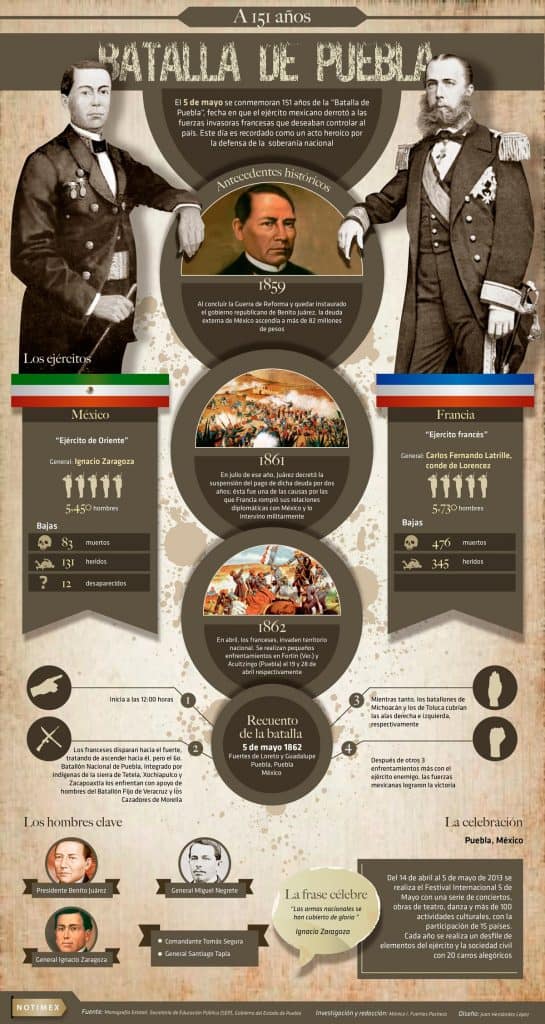 Credit: NOTiMEX, Monografía Estatal: Secretaria de Educación Pública Gobierno del Estado de Puebla, Diseño: Juan Hernández López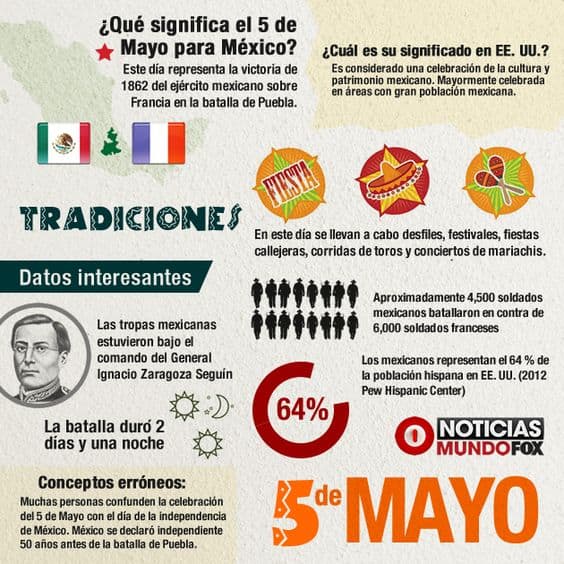 Credit: Noticias Mundo Fox
For more:
https://www.pinterest.com/eealvarado/cinco-de-mayo/
CLASSIC MEXICAN SONGS
May is the perfect month to highlight some authentic Mexican songs. While the rest of the U.S is eating chips and salsa (and thinking they're celebrating Mexico's independence), your students can highlight rich Mexican music with deep cultural roots. There are a TON of good songs; here are a few classics I love.
CIELITO LINDO
LOS CAMINOS DE LA VIDA
MEXICO QUERIDO Y LINDO
CINCO DE MAYO VIDEOS IN SPANISH
Here are a variety of videos that explain the story behind the Battle of Puebla and how the holiday has grown into what it is now, both in Spanish and English
5 DE MAYO ( BATTLE OF PUEBLA ) BATALLA DE PUEBLA
¿POR QUÉ EU CELEBRA EL 5 DE MAYO?
CONOCE LA HISTORIA DETRÁS DE LA BATALLA DEL 5 DE MAYO EN PUEBLA
HISTORIA DE LA BATALLA DE PUEBLA
BATALLA DE PUEBLA PARA NIÑOS
CINCO DE MAYO VIDEOS IN ENGLISH
THE REAL HISTORY OF CINCO DE MAYO
ASK HISTORY: CINCO DE MAYO | HISTORY
OVERVIEW OF CINCO DE MAYO
WHAT CINCO DE MAYO IS ALL ABOUT | NBC NEWS
MEXICAN CULTURE IN THE US
CINCO DE MAYO ACTIVITIES
Like it? Pin it!
Join the newsletter
Want to stay in touch and hear from me weekly?

Sign up now and you'll get this free game set.