Día de Muertos Bulletin Boards and Displays
Inside: Bulletin boards, ofrendas, and Day of the Dead decorations in Spanish Classrooms.
Decorations for Día de Muertos are a welcome alternative to the pervasive chile peppers and sombreros we often see in Spanish classroom decor. Though Day of the Dead isn't celebrated in every part of the Spanish-speaking world, it is widely celebrated across Latin America and a good way to bring culture into the classroom.
Many teachers embrace the holiday as more deeply rooted in Latino traditions than Cinco de Mayo, for example. In this post, you can see how other teachers created in-class displays, altars, or bulletin boards related to Día de los Muertos.
As with any religious holidays, Day of the Dead has to be handled with care and it may be confusing for some families to walk into a classroom and see images of skulls, skeletons, or graveyards. While Día de Muertos a good chance to explore religious traditions and compare/contrast with Halloween here in the U.S, it may be worth sending a note home preemptively to explain some of the traditions and how you plan to teach about them.
You know your own students and community best, but it's sometimes helpful to see what others are doing!
DÍA DE MUERTOS DECORATIONS AND DISPLAYS
Related: Día de Muertos Activities and Lesson Plans
If you have students who have recently experience loss, you may need to think about how to handle it as well. Some teachers use the day as it was intended, and intentionally create a space for grieving students to reach out and remember the lives of their loved ones.
The teacher below did just that, to honor the life of a student who passed in her own school community. She decribed it as such: "Altar de muertos dedicado a uno de los estudiantes que perdió la vida en un accidente el año pasado."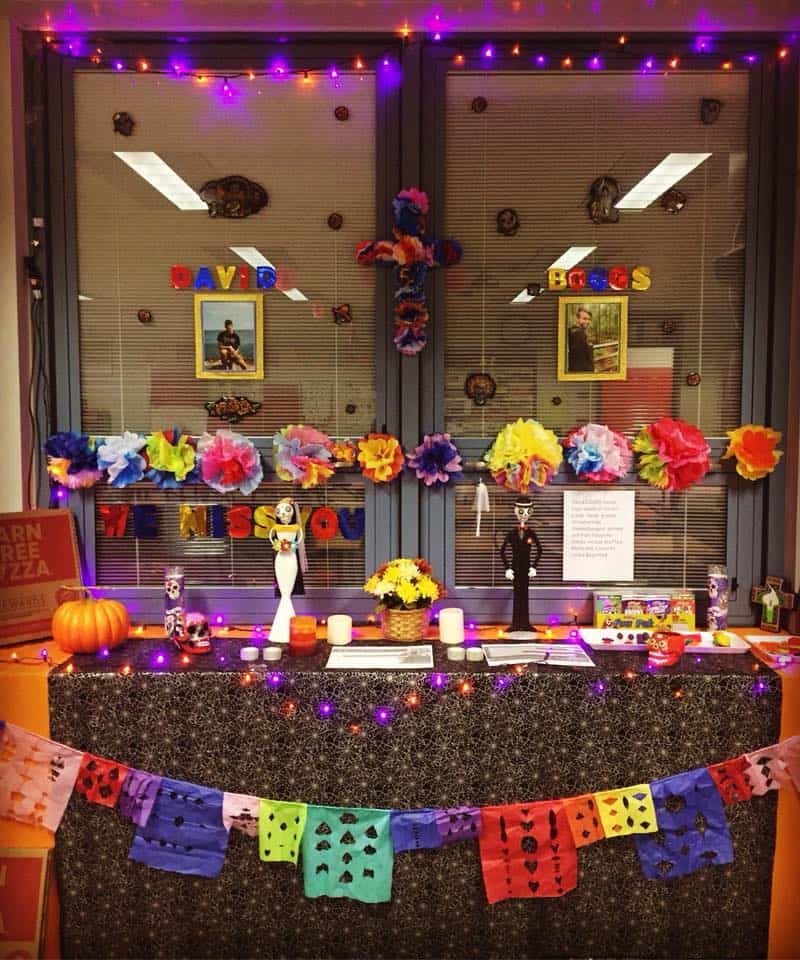 Credit: Alicia Chávez Bartlett
DÍA DE MUERTOS BULLETIN BOARDS
We'll start off with bulletin boards and displays that teachers set up to share about the holiday.
DÍA DE MUERTOS OFRENDA PROJECTS
Many teachers assign making ofrenda as a project. Several Spanish teachers shared the gorgeous work their students created, and I love seeing their creativity. 
Credit: Kimberly Perez
School: Cypress Park High School
DÍA DE MUERTOS CELEBRATIONS
Claudia shared these pictures of the celebration she's organized at her school. She says,
"We decorate the room with all different projects my students make, and we create a life size altar on the stage where the students and staff can display the pictures of their loved ones. Then we have a fiesta, our baking students bake/decorate skull shaped cookies and Día de los Muertos bread, our culinary students make us rice and pulled chicken and then we eat, dance, and share stories about our deceased loved ones. We have been featured in our local newspaper the past 3 years."
Amazing way to put the spotlight on world language programs, right?
If you have pictures of Day of the Dead decorations, bulletin boards, or ofrenda you'd like featured, please send me an email or message and let me know!
You might be interested in these related posts:
LIKE IT? PIN IT!