Inside: A list of inspirational AOC quotes, along with her biography and lesson resources for teachers.
Alexandria Ocasio-Cortez is the youngest woman ever to be elected to Congress, elected at age 29. Commonly referred to as "AOC," she represents New York's 14th Congressional District as a Democrat.
To gain her seat, she defeated a 10-term New York Democrat in the primaries, which launched her into the national spotlight.
If you are here specifically looking for Alexandria Ocasio-Cortez quotes, click here to jump to that section!
Related: Famous Latinos & Hispanic Americans Home Page
Here's an index of what's included in the post. You can click on any link to jump straight to that section: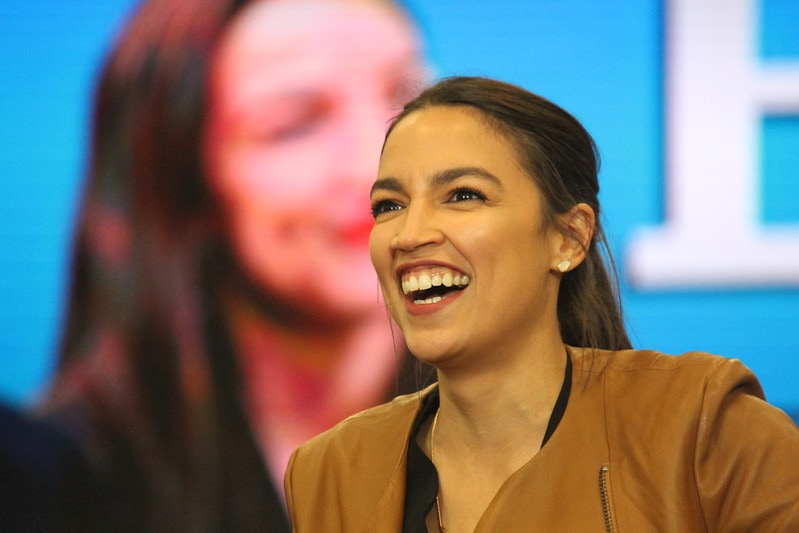 Alexandria Ocasio-Cortez Biography
Alexandria Ocasio-Cortez was born October 13, 1989 and grew up in the Bronx, New York, in a Puerto-Rican family. She graduated from Boston University in 2011, with a degree in economics and international relations.
After graduating, Ocasio-Cortez worked low-wage jobs in restaurants and worked as a community organizer. She volunteered for the Bernie Sander presidential campaign in 2016 and also visited Standing Rock, which she refers to as a turning point in deciding to run for office herself.
In a stunning victory in 2018, she beat incumbent Congressman Joe Crowley in the primaries. He had been elected to Congress 10 times. She then won the seat, becoming the youngest woman ever to join Congress.
Ocasio-Cortez is a member of the Democratic Socialists of America. She focuses on issues like immigration, criminal justice reform, healthcare, and housing. The first legislation she participated in submitting was the Green New Deal in 2019.
Currently, Ocasio-Cortez is still serving in Congress after being re-elected in 2020.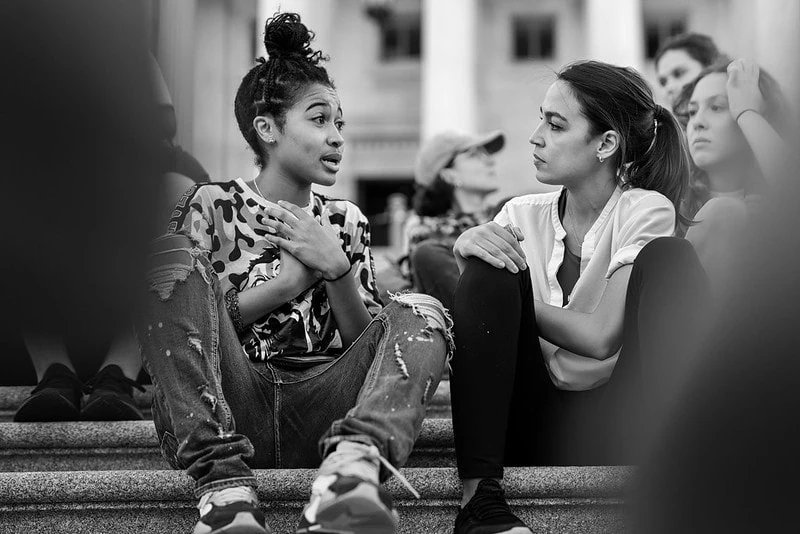 Interesting Facts
Ocasio-Cortez started college in 2007, and her father died in 2008. During this time, she also worked for Ted Kennedy's office, in foreign affairs and immigration, and sometimes handled calls as the only Spanish speaker.
When she graduated, the U.S. was still in a recession and she had to work as a server in restaurants to help support her family and mother, who worked as a school bus driver and house cleaner.
Printables and links to learn more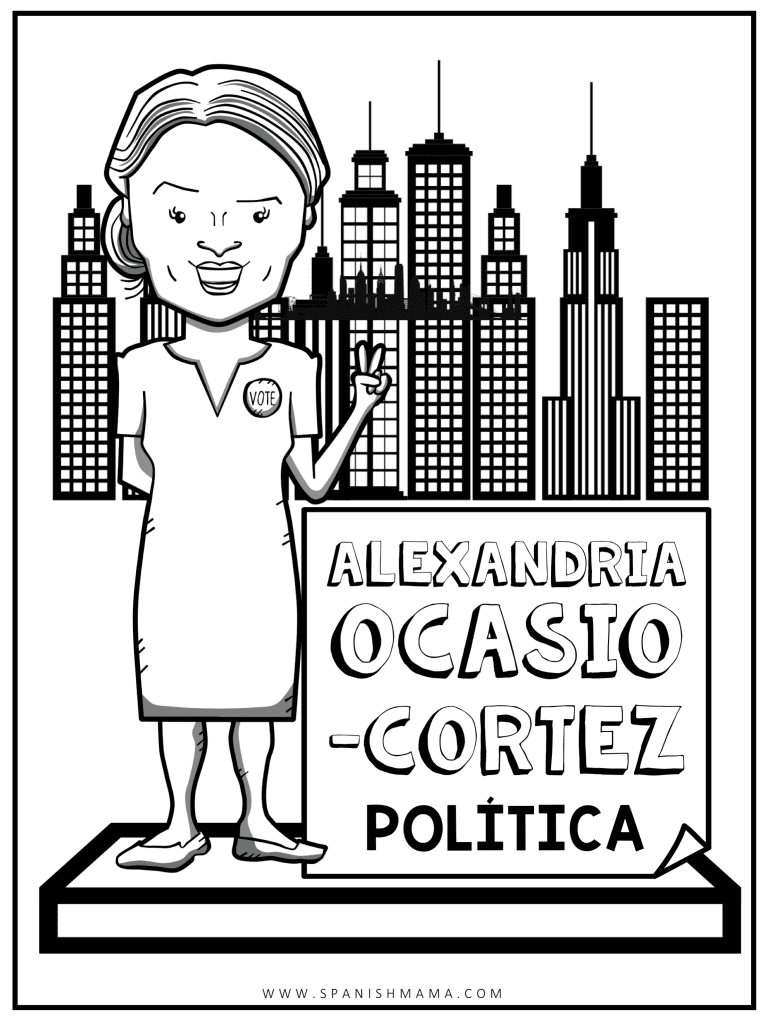 Free Resources:
Videos About Alexandria Ocasio-Cortez
An AOC biography that includes lots of interview clips (4min 19s):
This AOC bio dives a little more into her background and rise to politics (2min 20s):
Really informative biography of Ocasio-Cortez in Spanish– if using in class, beware it shows a brief image of her working as a bartender (3min):
20 AOC Inspirational Quotes
"I wake up every day, and I'm a Puerto Rican girl from the Bronx. Every single day."

– Alexandria Ocasio-Cortez
"If they want to make an example out of me, I will gladly be one. Hopefully we can be an example of dedication, courage, and persistence under fire. I also hope to be an example of not tolerating nonsense, too."

– Alexandria Ocasio-Cortez
"We must lean on others to strive on our own."

– Alexandria Ocasio-Cortez
"I used to be much more cynical about how much was up against us," she says. "I think I've changed my mind. Because I think that change is a lot closer than we think."

– Alexandria Ocasio-Cortez, TIME Magazine
"We don't have time to sit on our hands as our planet burns. For young people, climate change is bigger than election or re-election. It's life or death."

– Alexandria Ocasio-Cortez
"The biggest hurdle that our communities have is cynicism – saying it's a done deal, who cares; there's no point to voting. If we can get somebody to care, it's a huge victory for the movement and the causes we're trying to advance."

– Alexandria Ocasio-Cortez
"People tell you things. And they tell you what they believe. And they tell you what they want for themselves, for you, they tell you their stories."

– Alexandria Ocasio-Cortez
"We are all capable of awakening and commitment. And because of that, we can all be great."

– Alexandria Ocasio-Cortez
"We are up against political nihilism. The idea that nothing we do matters, because as long as I live in the Bronx, the political reality of this country is that no one's going to fight for me. That is why it's so important that we take some of these risks for our base."

– Alexandria Ocasio-Cortez, NY Times
"There is so much fear and hate. We must negate it with active, courageous love.""

– Alexandria Ocasio-Cortez
I hope these quotes and resources were helpful to you! If you have more ideas for resources or lessons, let me know in the comments below!
Join the newsletter
Want to stay in touch and hear from me weekly?

Sign up now and you'll get this free game set.