Laurie Hernandez Quotes And Biography
Inside: Learn about the life and career of Laurie Hernandez, along with her most famous quotes.
Laurie Hernandez is an American gymnast, one of only a few Latina Olympian gymnasts. In the 2016 Olympics, she won an individual silver medal for the balance beam and was a member of the women's "Final Five" team that took the gold medal.
If you are here specifically looking forLaurie Hernandez quotes, click here to jump to that section!
Related: Famous Latinos & Hispanic Americans Home Page
Here's an index of what's included in the post. You can click on any link to jump straight to that section:
Laurie Hernandez Biography
Fast Facts about Laurie Hernandez

Birth: June 9, 2000
Birthplace: New Jersey, U.S.
Education: Abeka Academy High School 
Career: Gymnast, Author
Famous For: Member of 2016 U.S. Women's Olympic Gold Medal Team, Individual Silver Medal for the Balance Beam

Laurie Hernandez was born June 9, 2000, to Puerto Rican parents in New Jersey. Hernandez first began gymnastics at age 5. She participated in USA gymnastics camps and her talent was obvious from a young age.
After an injury in 2014, she participated in and won medals in several international events. In 2016, she joined the U.S. team, the youngest member of the team known as the "The Final Five." Known for her energy and expression, she was nicknamed "The Human Emoji."
"Having the opportunity to go to the U.S. Olympics was great because I was the first Latina in over 30 years to compete in gymnastics at the Olympics." – Laurie Hernandez
In the 2016 Summer Games in Rio, the team took gold. Hernandez earned a silver for her individual performance on the balance beam.
Hernandez did not return to the Olypmics in 2021, but has kept busy trying new things. She has written two books, participated and won the Season 23 competition for Dancing With the Stars.
Awards:
Gold Olympic Medal
Silver Olympic Medal
Bronze Medal at the 2016 P&G Championships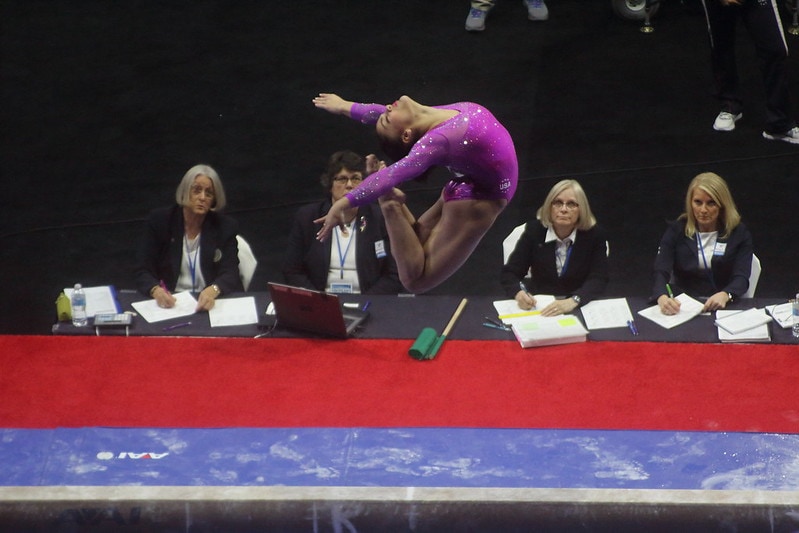 Interesting facts:
Hernandez says that she had always focused on her love for gymnastics and her goal of making it to the Olympics. As the first Latina on the U.S. team in 30 years, however, many people saw her as more than just an athlete. As fans and parents talked to her, she realized she was also a role model for Hispanic girls and the Latinx community in general.
"When you're a little girl, and you're watching the Olympics, and you see this very diverse group of gymnasts out there, and – I think this team, the Final 5, will inspire so many little girls to go out there and do what they love." – Laurie Hernandez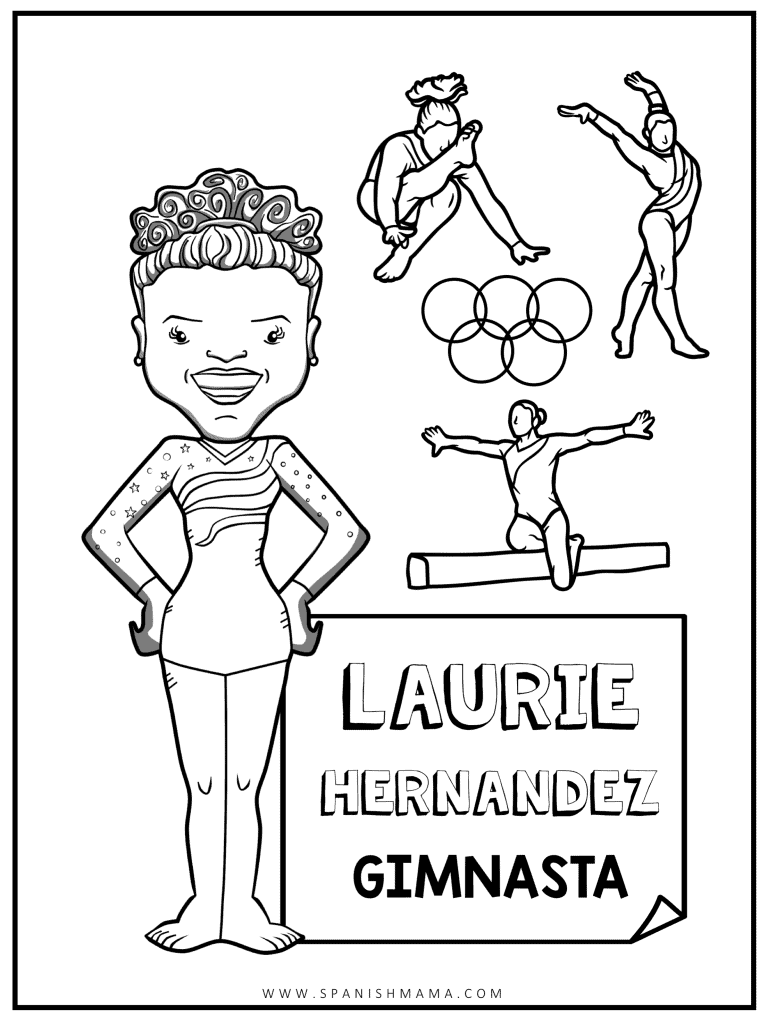 Printables and links to learn more
Free Resources:
You also might be interested in my sets of biography slides and project templates for learning about Latinx and Spanish-Speaking leaders, plus a free guessing game.
Laurie Hernandez Books
Since competing in the Olympics, Hernandez has written an autobiography, I Got This, written for young adults, and She's Got This, for children.
Videos About Laurie Hernandez
This video briefly shows Laurie Hernandez speaking on representing her Hispanic community (1min 31s):
A 2016 intro Laurie Hernandez, as the first Latina Olympic gymnast in 30 years (1min 28s):
Laurie Hernandez gives her younger self advice, in a mix of Spanish and English (3min 8s):
10 Laurie Hernandez Quotes
1. "I want to make sure I always show off my smile and have a positive attitude the whole time, whether it's during a performance, practice, or doing an interview."
– Laurie Hernandez
2. "Don't let people tell you that you can't do something."
– Laurie Hernandez
3. "I think it's amazing that I can go out there and be myself, and the fact that I'm carrying Puerto Rico on my back a little bit is such an honor."
– Laurie Hernandez
4. "I want to be a role model. I want to be able to know that I inspired girls to work hard and go for their dreams and to never give up."
– Laurie Hernandez
5. "I don't see it as the pressure at all. I see it as such an honor to just in some sort of way represent Puerto Rico and Hispanics and all the girls out there."
– Laurie Hernandez
6. "The goal of making it to the Olympic Games has motivated me to work very hard in my sport."
– Laurie Hernandez
7. "We're all different, so even though someone is getting a skill before you, it doesn't mean that you're not good enough; it just means you have to wait a little bit, and the skill will come when it comes."
– Laurie Hernandez
8. "People have seen me at my best, but I don't think most of them know everything that it took to get me to where I am today."
-Laurie Hernandez
9. "Two people who really inspire me are my parents, Wanda and Anthony, just because they really made sure to keep up Hispanic culture in my family."
– Laurie Hernandez
10. "No matter what race or color you are, you can aspire to do something great."
– Laurie Hernandez
11. "The Olympics was really, really stressful because I had never done anything like it. At the same time, I was understanding something like that could never really happen again. I embraced it and took in everything."
– Laurie Hernandez
12. "People have always asked me why my favorite event was the floor, and my answer was always, 'Because I love to dance!"
– Laurie Hernandez
I hope these ideas and resources were helpful to you! If you have more ideas for resources or lessons, let me know in the comments below!
Image Sources:
Image 2: "Laurie Hernandez" (CC BY-SA 2.0) by Gage Skidmore
Image 3: Laurie Hernandez" (CC BY-NC-SA 2.0) by Susie Butler
Join the newsletter
Want to stay in touch and hear from me weekly?

Sign up now and you'll get this free game set.