Lesson 1: Greetings Activities for Preschool Spanish
Inside: Greetings activities in preschool Spanish, through a ¿Cómo estás? and ¡Buenos días! lesson.

Lesson 1 Goals: I can greet my teacher and friends.
Target Structures: buenos días, ¿Cómo estás?, Muy bien, gracias, el pollito, and dice.
Click to see my outline of Preschool Spanish Lessons for Los pollitos dicen. (Most lessons provides enough material for multiple classes.)
Movement/brain breaks: Stretch with movement words: levántate, siéntate, manos arriba, and manos abajo. I just say them while modeling, and eventually the kids understand the words on their own.
Notes: The activities suggested here may take more than one class to cover. It's always best to go slow, watch energy and interest levels, and take breaks! If you'd like to see how to get organized as you try out these lessons, see my post on setting up a language learning notebook for kids.
To do all the activities I suggest in this post, you'll want to download my free unit Los Pollitos Dicen Unit 1 so you have all the materials at your fingertips. It includes a teacher's guide, lesson plans, printable activities, mini-books, and a PDF story.
GET THE PRINTABLES
Free games, printables, mini-books, and more!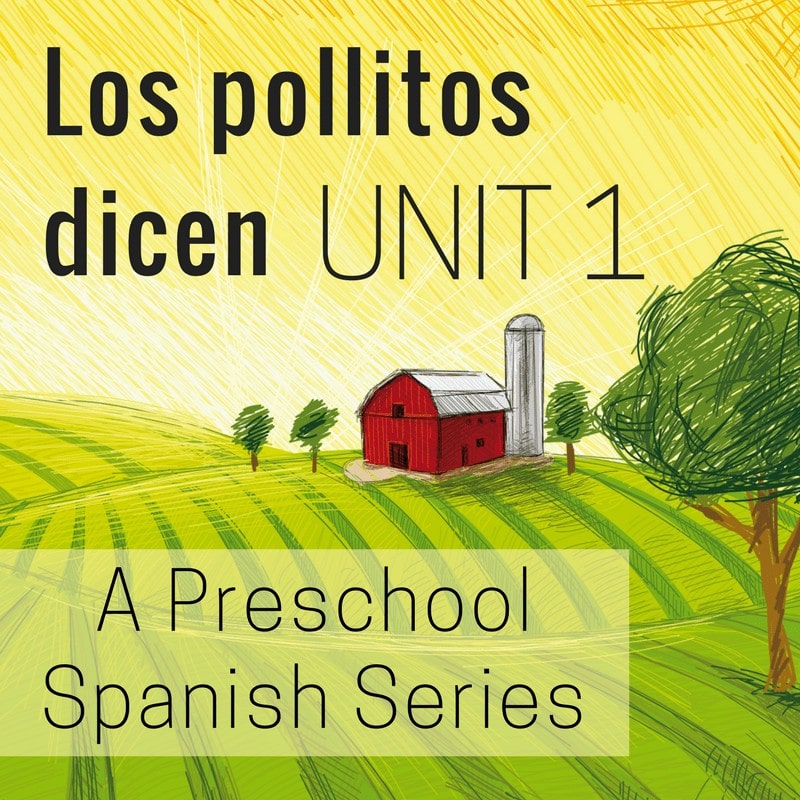 ACTIVITY 1
Teach the song Buenos días. This will be a good way to start future classes, and you can teach the whole song, or just focus on the buenos días line.
As you learn the song, do motions for each part (stretching in the morning, hands up, questioning, for how are you, thumbs up, and pointing to a friend for usted).
ACTIVITY 2
Teach buenos días, buenas tardes, and buenas noches with the picture cards (included in the Unit 1 free download). The morning, afternoon, and night picture cards can be given to each student, or just used by the teacher. It could be a special student job to hold them while singing the greeting song, as well!
You could also have the students color the cards and then hold them up as you say "buenas días" or "buenas noches."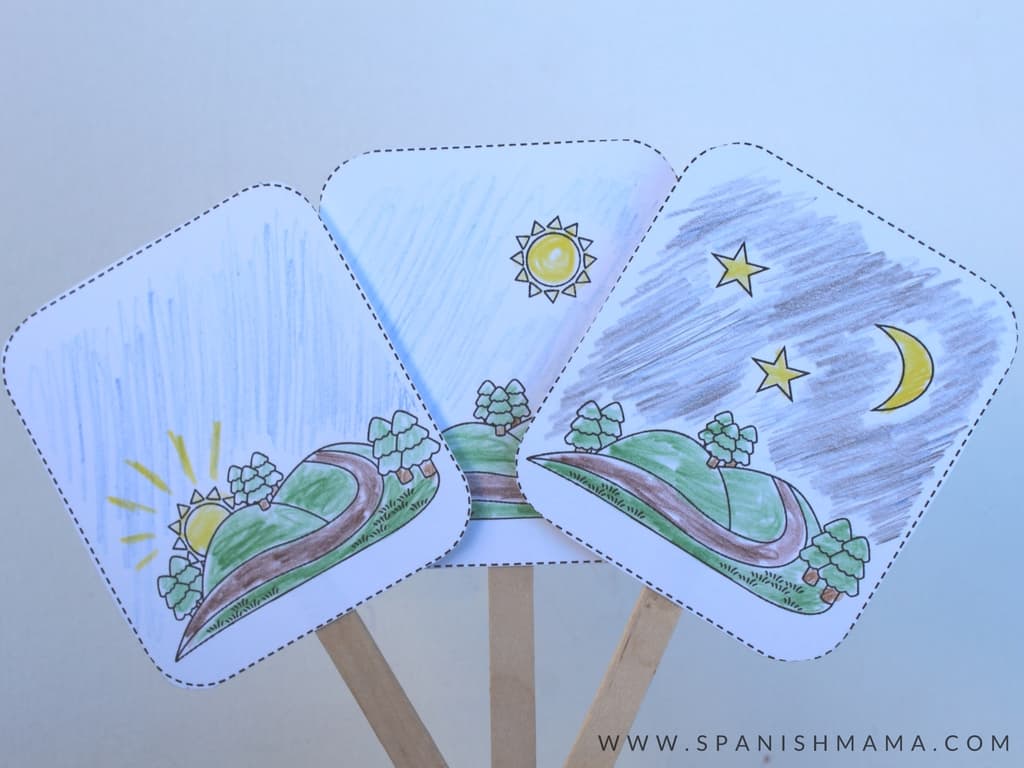 ACTIVITY 3
Teach how to answer the question ¿Cómo estás? You can let your students color and/or draw on the muy bien pages in the Unit 1 download. Another option is to have the students make a puppet or mask on a paper plate, with a happy face on one side and a sad face on the other side as they learn to answer with muy bien, gracias, or estoy mal.
ACTIVITY 4
Now that greetings are underway, teach the first line to Los pollitos: Los pollitos dicen pío, pío, pío. Prep the clothespin pollito puppet from Unit 1 to teach el pollito, and move the mouth for pío, pío.
Circle both pollito and dice. (Provide repetitions around the phrases.) ¿El pollito dice <muu>? ¡No! ¿El elefante dice <pío>? ¡No! ¿El pollito dice <pío? ¡Sí! etc. Once the kids feel comfortable with that phrase, give them their own little chick or make them together, and practice singing the first line several times.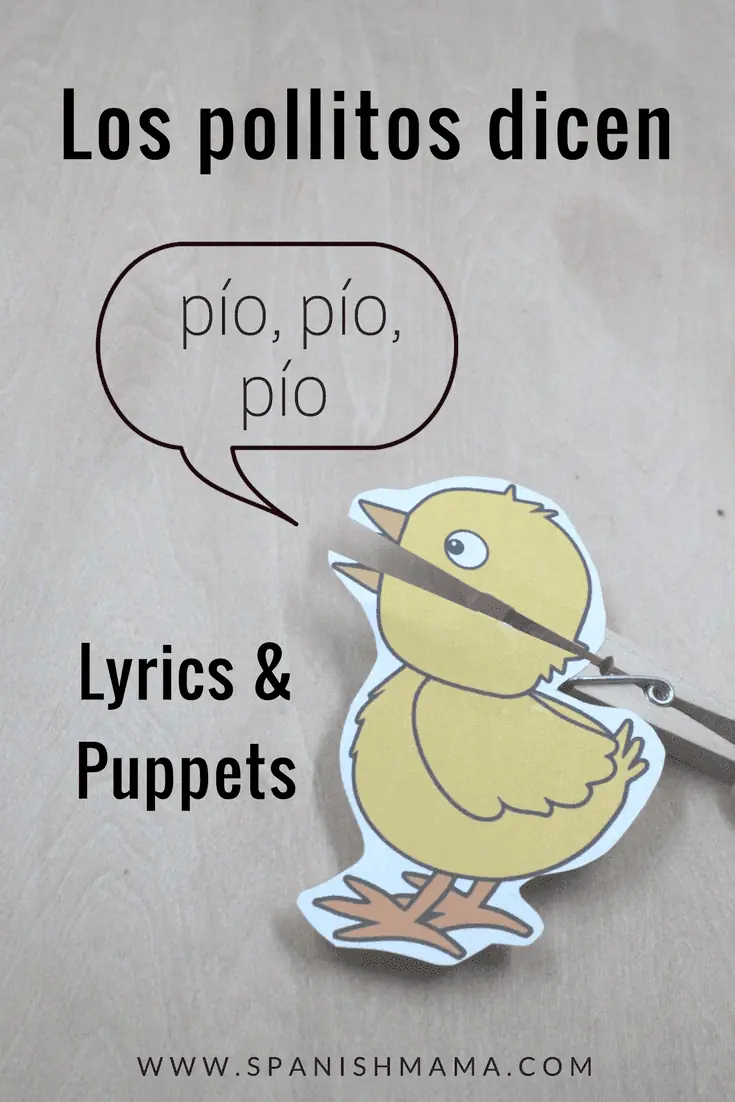 This will come in handy when we do ¿Cómo te llamas? next lesson!
I recommend singing or listening to the song Los Pollitos Dicen throughout this lesson and all the future lessons in the this series, By the end of the year, students will understand all the lyrics to this classic children's song in Spanish. 
FB LIVE ON LESSONS 1-2
I've been getting onto Facebook to chat about preschool Spanish and show how I teach these lessons. Sometimes it helps to see, not just read about ideas!
MORE GREETINGS IN SPANISH SONGS AND VIDEOS:
Watch these with your kids, or recommend that your students watch at home with their families to keep practicing and learning together!
Join the newsletter
Want to stay in touch and hear from me weekly?

Sign up now and you'll get this free game set.