Cristina Kahlo: Beloved Sister, Greatest Sadness
Inside: Cristina Kahlo, and how she impacted the life and art of Frida Kahlo. 
Cristina Kahlo is most famous for her sister, Frida Kahlo: art icon and renowned Mexican painter of self-portraits.
Detailed information on Cristina herself is not widely availalb– and especially from her own perspective– is not widely available.
She appears in letters, in paintings, in intimate details, as a beloved character and a deeply wounding one. From these pieces, we can know some of her story and how it impacted her sister, Frida Kahlo.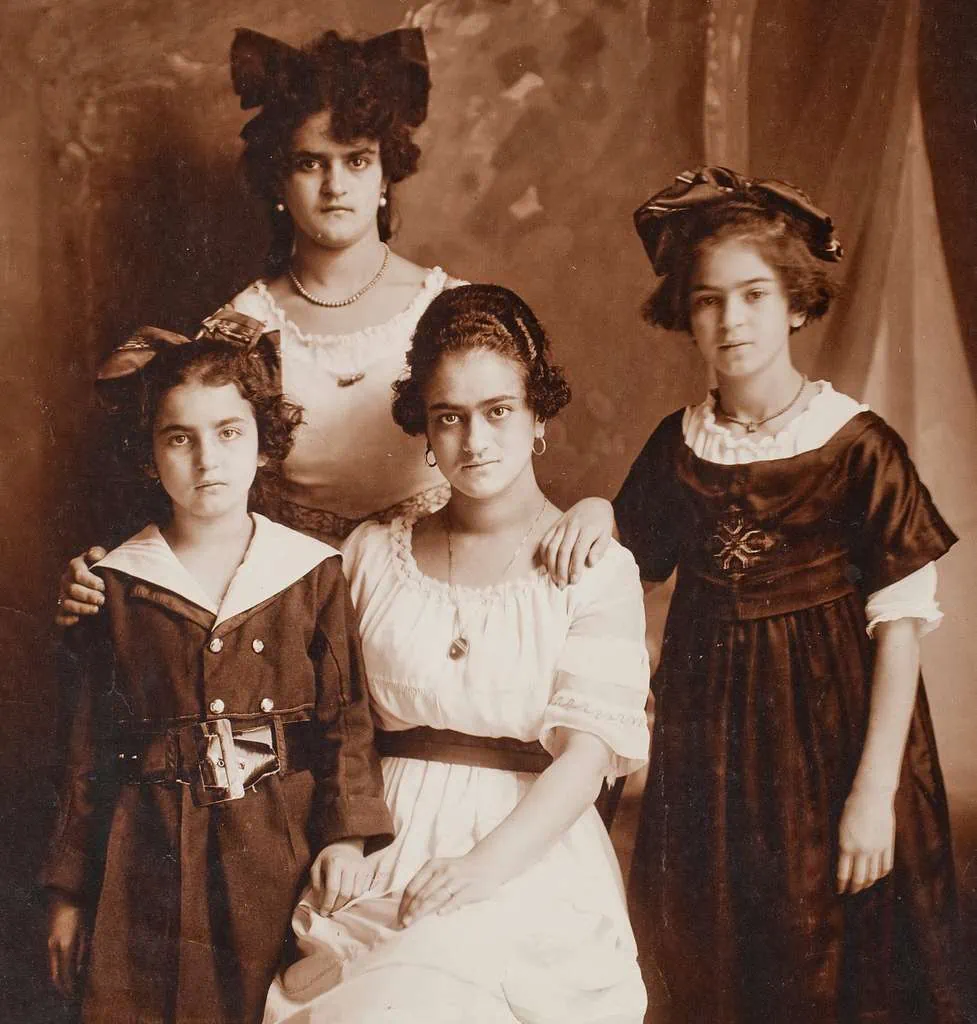 Related: 25 Frida Kahlo Quotes
Who Was Cristina Kahlo?
Cristina was the fourth of the Kahlo sisters: Matilde, Adriana, Frida, and then Cristina. (There were two older sisters as well from Frida's fathers first marriage, María Luisa and Margarita.)
She was born June 7, 1908, in Mexico City, to photography Guillermo Kahlo and Matilde Calderón. Cristina was born only eleven months after Frida (Frida alluded to this closeness of age in the painting Mi Nodriza y yo, where she is being nursed by a wet nurse).
While Frida is known for her fierce independence, her sister Cristina was described as a meek, quiet personality. The two sisters were close from childhood.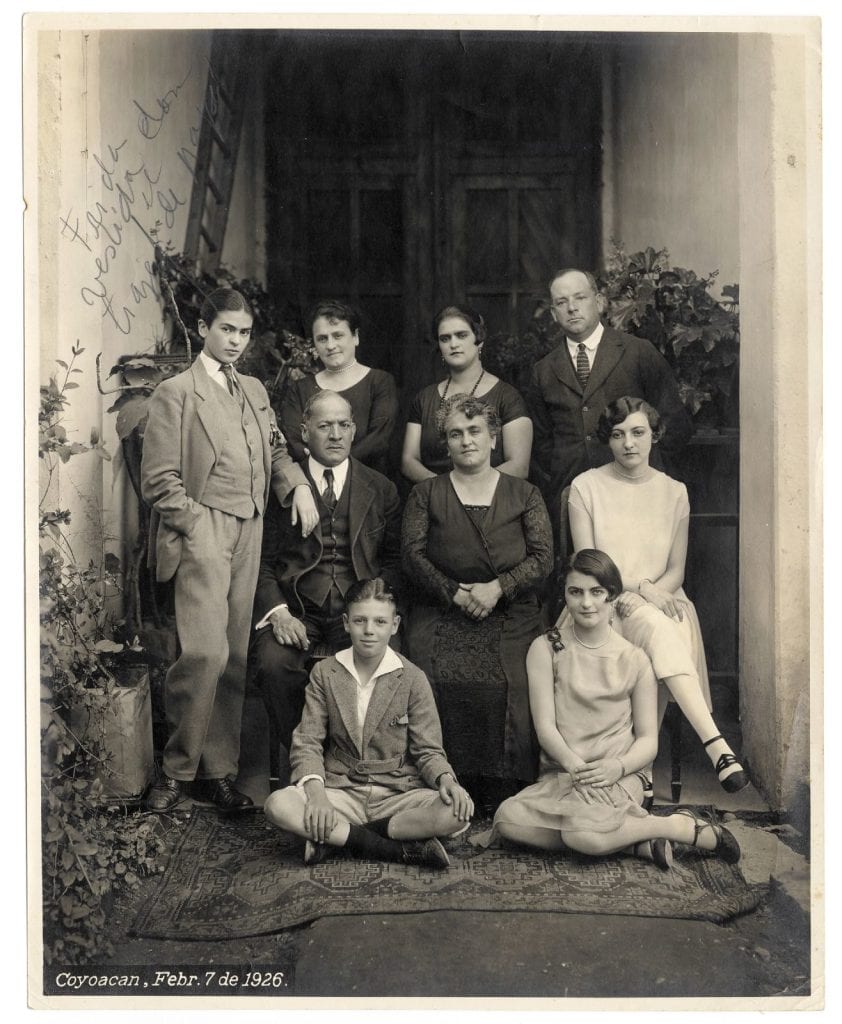 "They showed great dedication to each other in every difficult moment they had to go through. The shared victories and defeats, happiness and grief. It goes far beyond my mother's unconditional presence at the side of he sister whenever she felt ill. The first thing Frida would do whenever she had to undergo one of her many surgeries , or whenever she felt her life was in danger, was call Cristina."
– Intimate Frida, by Isolda P. Kahlo (Cristina's daughter)
Cristina Kahlo married Antonio Pineda and they had two children, Isolda and Antonio. Cristina's husband was abusive, and she later divorced him.
Cristina died in 1964, at the age of 55.
Memorialized in paintings by both Frida and Diego, Cristina is perhaps best known for her affair with Frida's husband, Diego Rivera.
Related: Free Frida Kahlo Coloring Pages
Frida and Diego
Frida Kahlo married Diego Rivera in 1929, when she was 22 and he was 43. Their marriage was tempestuous, with great passion but also infidelity on both sides. They divorced in 1939, only to remarry in 1940 and remain married until Frida's death in 1954.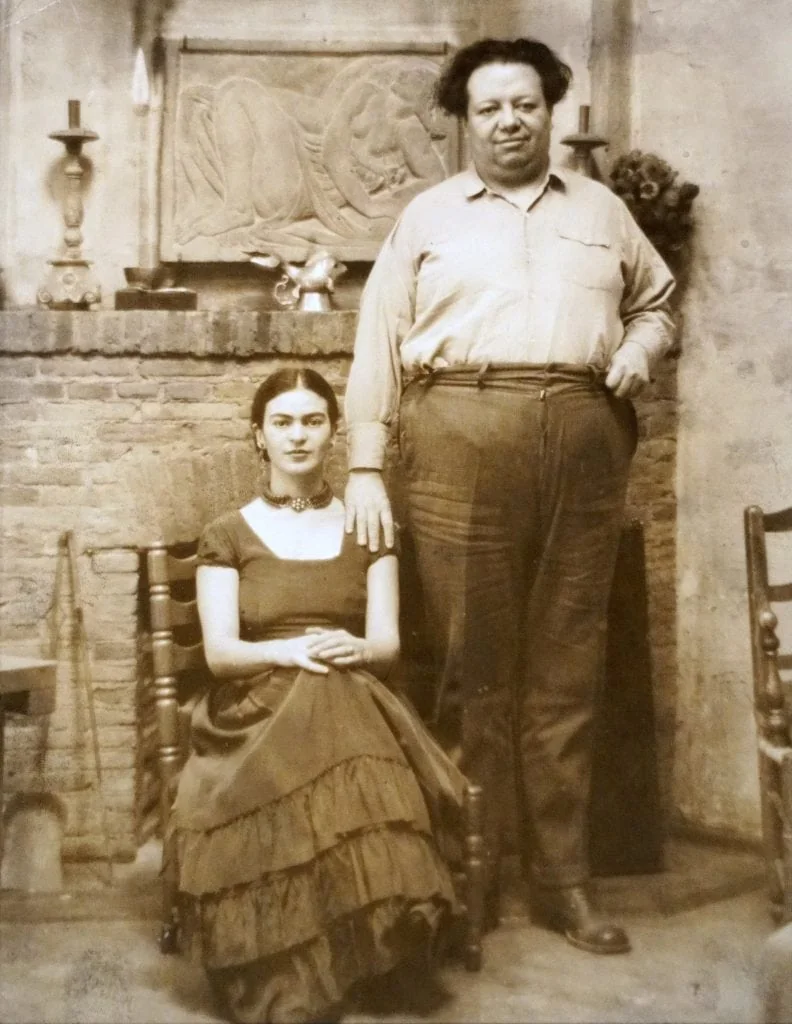 Even though Frida also had affairs with both men and women, Diego's affairs were deeply painful to her and she wrote extensively about the pain she felt.
"There have been two great accidents in my life. One was the train the other was Diego. Diego was by far the worst." – Frida Kahlo
And yet, she loved him endlessly and seemingly they could not live without each other. Diego said of Frida,
"If I ever loved a woman, the more I loved her, the more I wanted to hurt her. Frida was only the most obvious victim of this disgusting trait."
He later recounted,
"July 13, 1954 was the most tragic day of my life. I had lost my beloved Frida forever. To late now I realized that the most wonderful part of my life had been my love for Frida."
Cristina and Diego's Affair
From 1930 to 1934, Frida and Diego were living in the United States for work and various exhibitions.
It was a tumultuous time for Frida, however. who suffered multiple miscarriages and lost her mother in 1932. She longed to return to Mexico and they moved back in 1933. Together, they had a built a house that included a studio and two separate living quarters, joined by a bridge.
Following her divorce, Cristina moved in with Diego and Frida, along with her children. Cristina took over many of the household duties.
Diego had experienced some success in the United States, but his Rockfeller Center commission had been rescinded when he included Lenin in the mural. Back in Mexico, he began sketching Cristina.
According to Cristina's daughter Isolda, Frida herself initially encourage them to work together. She speculates,
I do not know why Frida persuaded my mother to pose as one of Diego's models, but it is not difficult to draw some conclusions. Frida must have had a very carefully planned strategy to keep the muralist away from other women. Many books talk about the parade of beautiful women who walked through the painter's work platform.
– Intimate Frida, by Isolda P. Kahlo
At some point during this time, Diego and Cristina began or continued an affair together.
"Frida knew the signs that Diego was once again involved with someone else, but when the "someone" turned out to be Cristina, Frida was at first crushed and then enraged. She had been betrayed by the two people closest to her. She locked the door to her side of the foot bridge. In a fit of anger, she chopped off her long hair and shoved her Tehuana dresses, skirts and blouses into the closet. About this same times, in 1934, her health took a downward spiral."
– Frida Kahlo & Diego Rivera, by Gerry Souter
What was worse was that Diego did not end the relationship after being discovered by Frida. He continued to paint Cristina, including her with her children in his mural for the National Palace. They were depicted in front of Frida.
(Cristina is shown in the red top, near the bottom.)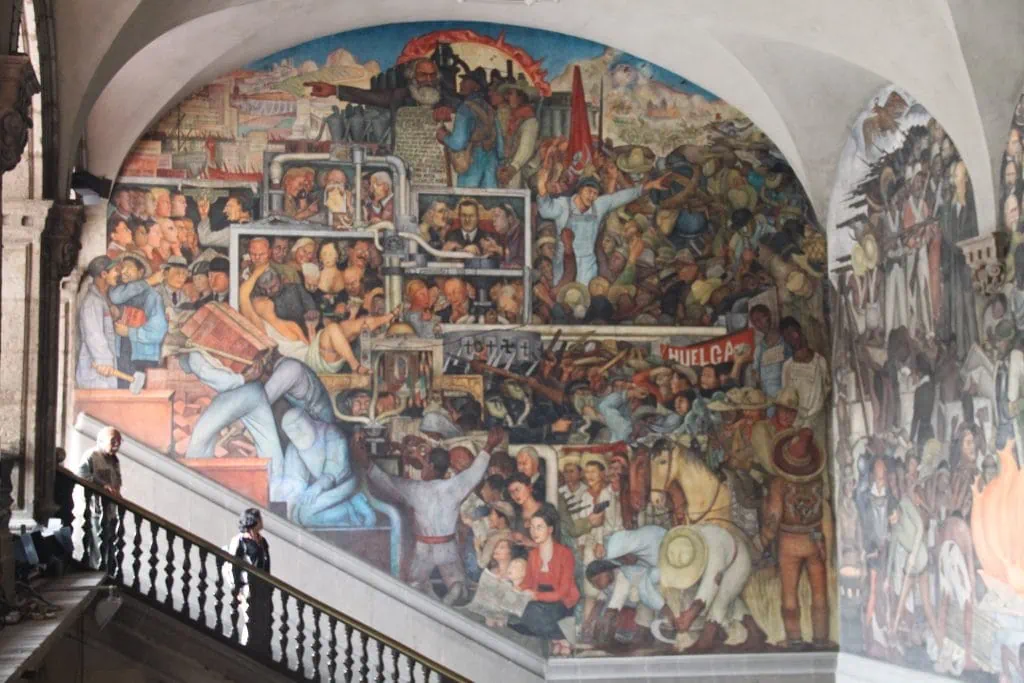 Frida left her beloved Blue House and rented an apartment of her own in Mexico City. Whether for revenge or in enjoyment of her new independence and freedom–or both– she embarked a series of relationships and threw herself into her art.
Slowly, Frida and Cristina began to reconcile. Frida was also very close to her nephew and niece and wished to part of their lives as well.
As to Diego, it seems that Frida resigned herself to who he was and would be, as a partner. Sometime 1935 they reunited.
"Frida wrote a letter to Diego in which she gave in: she said she was willing to accept his infidelities, which she called simple "diversions," and that they should not destroy the love that existed between them. Playfully, yet poignantly, Frida ends her letter with this plea: 'Love me just a little. I adore you.'"
However, the impact of the betrayal is evident in her work, and their relationship never returned to what it was before.
Frida and Diego later divorced, though it was due to Diego's involvement with María Felix and not directly prompted by the affair with her sister. When they remarried, it was a open agreement (Frida's lovers included Leon Trotsky, Nikolas Muray, and Georgia O'Keefe.)
Related: Frida Kahlo Art for Kids
CRistina Kahlo and Art
Frida painted a portrait of her sister in 1928, "Portrait of Cristina My Sister" (Retrato de mi hermana Cristina). You can see it here.
The year of the affair, 1934, Frida didn't produce any new work. Her two painting from 1935 express pain and anger.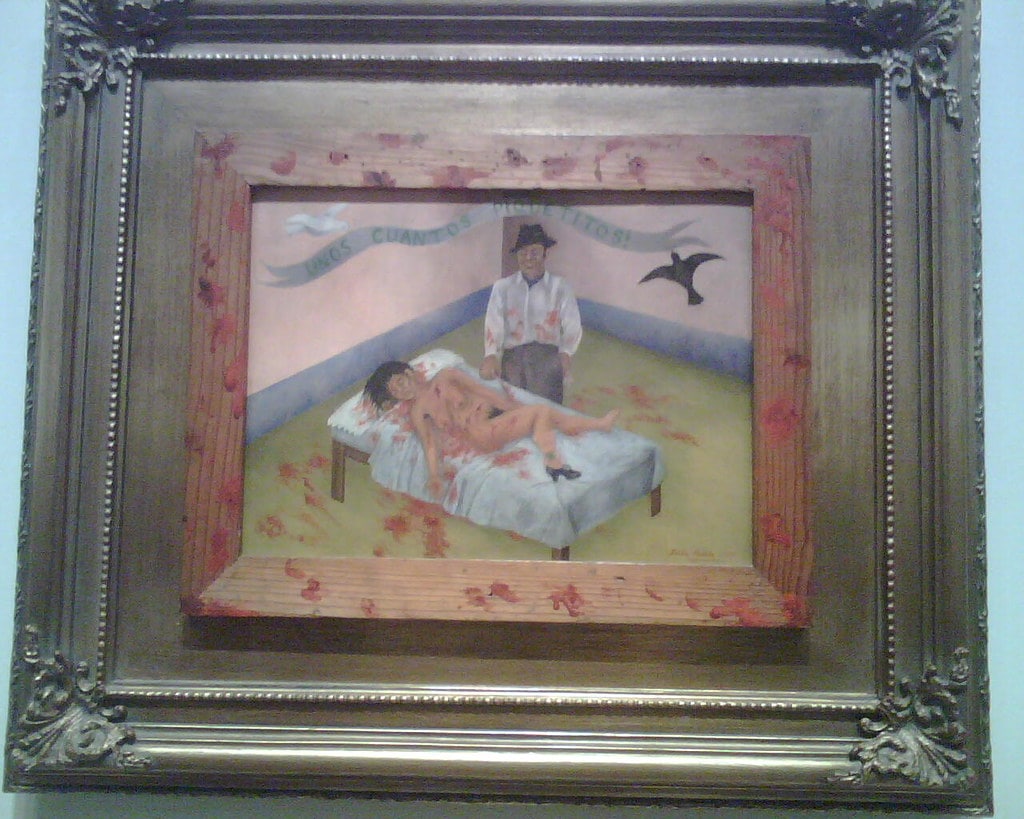 Frida's painting A Few Small Nips, 1935 (Passionately in Love) is said to reference her deep torment over the affair. See it in bolder color here.
Self-Portrait with Curly Hair shows her hair after cutting it all off (Diego had always loved her long hair). See it here.
Cristina was the subject of many paintings by Diego as well. She was included the mural The History of Mexico: The World of Today and Tomorrow.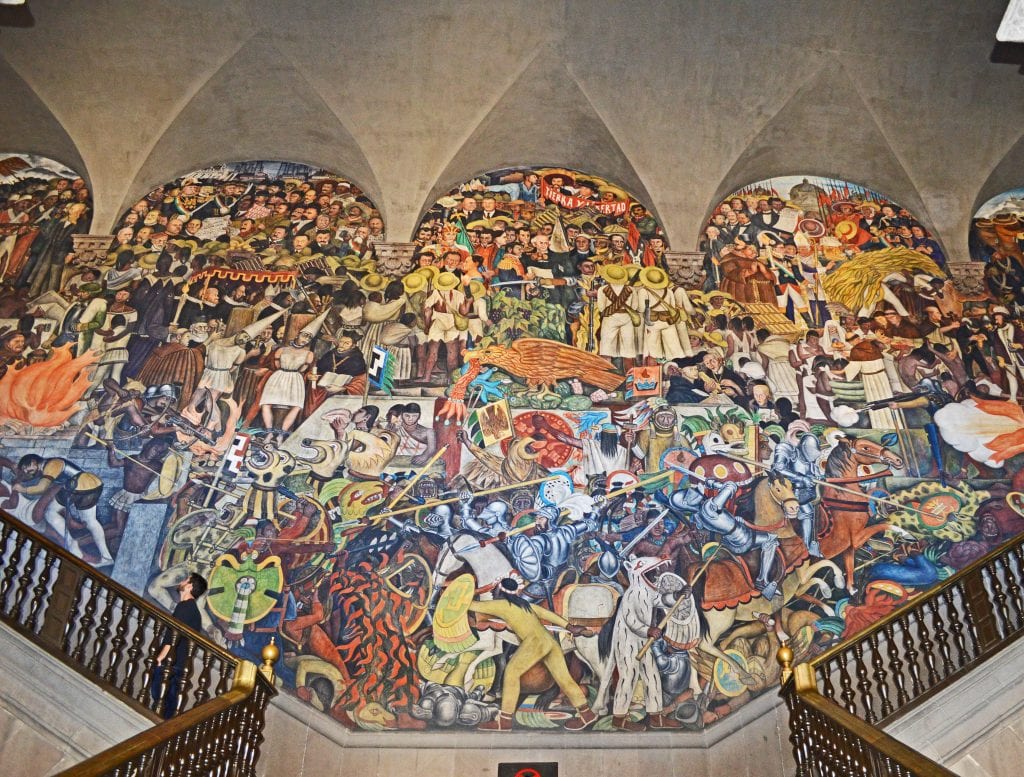 Diego Rivera has a painting in which she posed nude, the Figura del conocimiento (Figure of Knowledge). You can see a rough sketch of it here.