School-Friendly Frida Kahlo YouTube Videos for Kids
Inside: The best YouTube videos for learning about Frida Kahlo with students.
Frida Kahlo was a Mexican painter who is widely recognized as the most famous female artist of all time. While many themes in her art are too mature for the classroom, it's still possible to introduce much of her work and life to children.
(Hispanic Heritage Month and Cinco de Mayo are the perfect times to honor her legacy as a world-famous Mexican artist, too!)
A Quick Frida Kahlo Bio
Magdalena Carmen Frida Kahlo y Calderón was born July 6, 1907, in Coyoacán, Mexico. Her father was a German photographer, and her mother was a devout Catholic of mixed Spanish and Indigenous heritage.
Kahlo's personal life was marked by trauma from an early age. At the age of six, she was struck by polio. This left her with a lifelong limp. Then, at the age of eighteen, she was in a horrific bus accident. It left her with a broken column and injuries that would plague her for the rest of her life.
Kahlo began painting self-portraits while bedridden after her accident, using a mirror and paint supplies given to her by her parents.
Her art is known for its raw honesty, vivid colors, and surreal imagery. Her themes explored suffering, love, resilience, nature, and Mexican identity.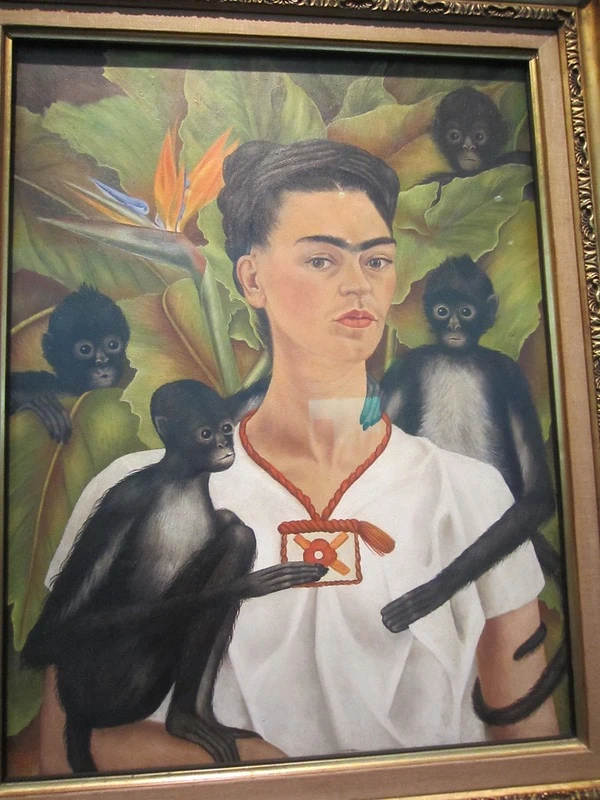 Kahlo is most renowned for her self-portraits, with work mostly comprised of oil paintings. Her husband, Diego Rivera, was also a famous Mexican artist known for his murals.
In addition to her art, Frida Kahlo is also celebrated for her unique style and persona. She embraced traditional Mexican clothing, such as long skirts, huipiles, and rebozos, and adorned herself with jewelry and flowers. She also had a distinctive physical appearance due to her unibrow and facial hair.
Despite her struggles with physical and emotional pain throughout her life, Kahlo continued to create art until her death in 1954, from a pulmonary embolism. Today, her work continues to inspire artists and art lovers around the world.
Related: for more fun activities for kids, see my Frida Kahlo teaching resources page.
Frida Kahlo Educational Videos
Contents:

1. Videos for Young Children
2. Videos for High School
3. Frida Kahlo Art Tutorials
4. Frida Kahlo Videos in Spanish
Obviously, there are details to Frida Kahlo's life that may be too mature for students. Part of her lifelong suffering included multiple miscarriages, and a tumultuous marriage with infidelities on both sides.

I've done my best categorize the videos below so you can choose an appropriate option for your context. Many of her painting are graphic or include nudity, so I've flagged anything you need to keep in mind when teaching children.
As always, please preview before showing anything in your classroom!
YouTube Videos for Young Children
This video is an illustrated story of Frida Kahlo's life. It manages to be quite detailed while staying appropriate for school, and is my favorite English pick for teachers.
Appropriate for all ages and safe the classroom! (3:58 minutes)
"This video about the life of Frida Kahlo is meant for kids as an introduction to one of the most well-known and influential female artists of Latin America."
Here you can find a gentle introduction for very young children, and just over two minutes long. (It does include the painting that shows the thorns around Frida's neck, but as a tamer copy of the work.)
This video is a great choice if you want to show original photos, footage. At 10 minutes, it's a more detailed biography, but still mostly school-friendly for upper elementary. The end includes directions for creating self-portraits.
The video briefly shows paintings that have blood, so you will want to check before showing to kids. (10:03 minutes)
This brief biography video showcases a number of Kahlo's paintings, if you want to focus on her art work.
Some of the painting included show some blood, so please preview for kids. (2:20 minutes)
Frida Kahlo YouTube Videos for Older Students
This TedEd video is a beautifully illustrated introduction to Frida Kahlo in under 5 minutes.
While the video is generally a discreet narration, it does include her painting "The Broken Column," showing brief nudity. (5:44)
In this three-minute video, Curator of Art Dr. Tracy Bonfitto gives viewers an in-depth look at one of Frida Kahlo's most celebrated paintings: "Self-Portrait with Thorn Necklace and Hummingbird" (1940)
I didn't include it in the elementary section because it obviously focuses in on the thorns/ blood around her neck.
"Immerse yourself in Frida Kahlo's vibrant artistry through our exhibition tour of 'Frida Kahlo: Appearances Can Be Deceiving'. We'll take a closer look at some of her personal items, photographs, and paintings that reveal the many ways Kahlo constructed her identity.
Frida Kahlo: Appearances Can Be Deceiving examines how politics, gender, trauma, and national identity influenced Kahlo's diverse modes of creativity. The exhibition features highly personal items, which came to light in 2004 at her lifelong home, La Casa Azul (now Museo Frida Kahlo) in Mexico City—including approximately 30 photographs, 20 vibrant Tehuana costumes from her wardrobe, and personalized braces and prosthetics—alongside paintings and drawings by the iconic artist and photographs reflecting her unique self-fashioning."
Include brief, non-graphic nudity from a drawing and commentary on sexuality and relationships. With a mature group of students, this is an absolutely fascinating tour of her personal belongings and life story . (18:49 min)
This video is a highly interesting and thorough exploration of Frida Kahlo's biography. It does include some of her graphic paintings and some mature themes. (16:36 min)
Frida Kahlo Art Tutorials from YouTube
How to Draw Frida Kahlo and her Spider Monkey
"Learn how to draw Frida Kahlo and one of her pet spider monkeys during this step by step drawing tutorial."
How to Draw Frida Kahlo
Another guide to drawing Frida Kahlo, with a very helpful narration.
Frida
Frida Kahlo Educational Videos in Spanish
Last but not least, what if you want to learn about Frida Kahlo in Spanish class or with Spanish-speaking students? Here are my top five Frida Kahlo YouTube videos in Spanish!
The language in this video is not in super simple Spanish, but it is school appropriate and provides a quick biography of Kahlo.
This one is school friendly and the illustrations are nice. (Make sure you are okay showing her painting of the wounded deer, as it's included here.)
I'm not sure how I feel on how it portrays overcoming suffering; that might be something to discuss. (5:10 min)
This is an imaginative, interactive introduction to Frida Kahlo, from the perspective of a child (it gets going at minute 0:40).

This video should work for all ages! (3:47 min)
Why is there a unicorn, and will your students make fun of the eyes on the people in this video? Possibly. However, the narration is dynamic and would make for a good Movietalk / comprehensible format.
I hope these YouTube videos are helpful to you, and save you some time! Happy learning!