Learn Spanish Online with Kids: The Ultimate Free Guide for Families
Inside: Free resources to learn Spanish online with kids.
More and more, parents are realizing the benefits of learning Spanish and want to do what they can at home. According to Eton Institute,
"Language learning helps develop strong cognitive skills, such as a better concept formation, mental flexibility, multitasking, listening skills and problem-solving, in addition to improving social interaction and encouraging connection between peers."
And right now, the internet is flooded with resources with online Spanish resources for kids. The hardest part is just knowing where to start and how to find them!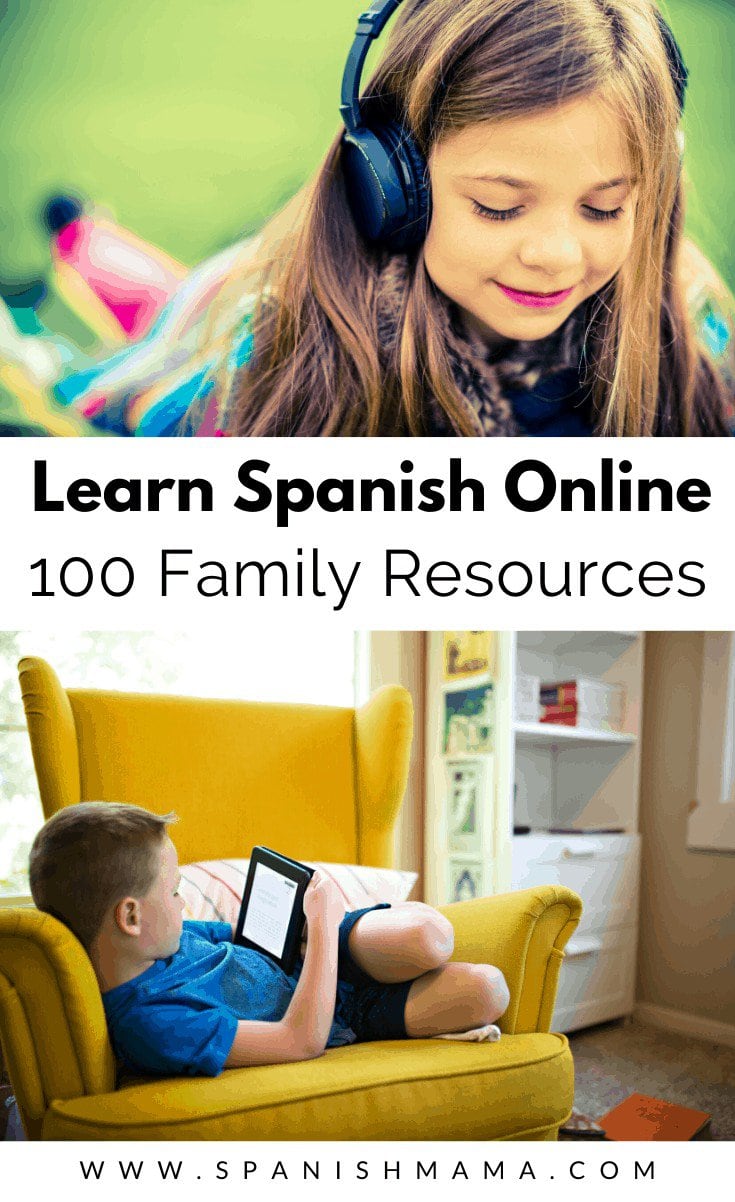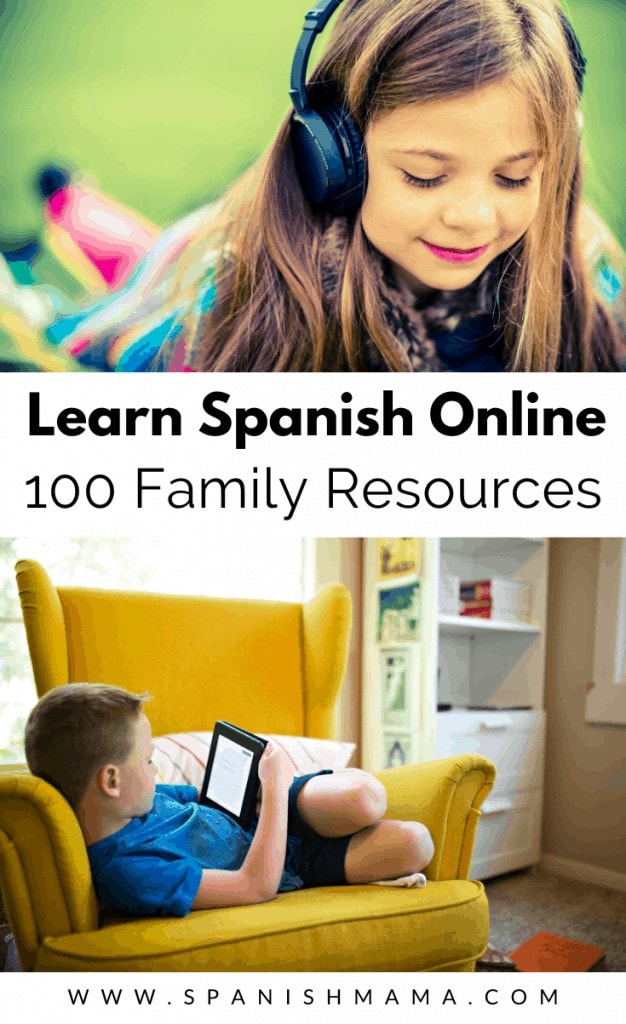 No worries on that end: here I've collected and sorted through the most popular online Spanish resources for kids, so you can find what you need.
For learning Spanish at home, this is the main thing to keep in mind: listening and reading are the most important components to learning a new language. It's even better when you incorporate fun, play, and speaking opportunities. But the key component is getting language in, especially the high-frequency phrases we use over and over to communicate.
Not sure where to start? Here's a round-up of the top free resources online.
LEARN SPANISH ONLINE WITH KIDS: TOP FREE RESOURCES
This is a big list, so here are quick links to jump to each section, in case you're here looking for something specific.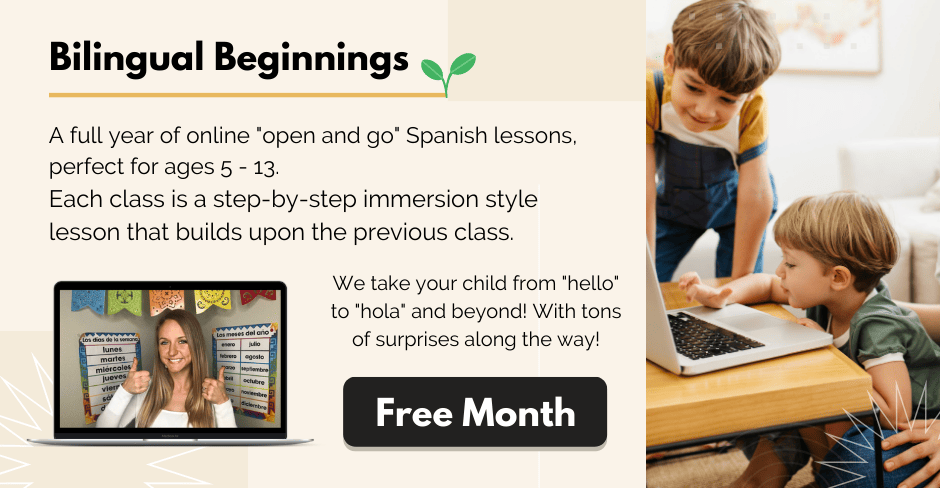 LEARN SPANISH WITH ONLINE BOOKS
Here are five places to find free online audiobooks in Spanish for kids:
Unite for Literacy is one of my favorites for colorful, simple books with Spanish text (some very simple, and some more advanced language).
The Spanish Experiment has five free fairy tales beautifully recorded for children, with scripts as well.
Spotify actually has some good storytelling playlists that kids can listen to in Spanish. Try Stories for Kids in Spanish and Kids Learn Spanish Stories Vol. 2.
Librivox is a project that records books now in the public domain, and includes a number of classic Spanish works (better for older kids).
Storybooks Canada is a cool project that highlights African stories, and provides books with audio in dozens of languages.
And here are five sources for online Spanish kids' books:
Maguaré is a huge collection of beautiful online picture books and poems for kids, sponsored by the Colombian Ministry of Culture.
Read Conmigo does require an email sign up, but shares free book and has almost 50 bilingual titles available.
International Children's Digital Library has 100+ books in Spanish for kids, with no sign-in necessary.
Fables in Simple Spanish includes ten free illustrated fables for kids. These are perfect for kids who are still learning Spanish.
Reading A-Z also requires an email, but is an excellent site with hundreds of books for different reading and literacy levels.
See the complete list with previews here: Spanish Audiobooks for Kids and Free Online Spanish Books for Kids. 
LEARN SPANISH ONLINE WITH KIDS: THE BEST APPS
Most of the resources on this blog post are free. Some of the apps suggested below do have a small fee– I just found that the quality of most free apps was not high, so I bent the rules a little with these suggestions! Here are five Spanish apps for beginners and learners:
Gus on the Go is one of my favorites for young children who need a simple app for learning some new vocabulary words in Spanish. Their stories stories app is mostly paid but very good as well.
($3.99, some parts free.)
Spanish School Bus is another nice introductory app for young kids learning things like numbers, colors, and shapes in Spanish.
($4.99, some parts free.)
DuoLingo is the most comprehensive, easy to use, and engaging language app available right now for free. It's best for kids who are older elementary and can read. (Free)
FunSpanish by StudyCat introduces 200 basic words, while teaching listening, speaking, spelling, useful vocabulary and simple sentences
($39.99 per year)
KinderLingo teaches basic vocabulary and includes games for practicing them, including 150 words.
(Free)
Here are five Spanish apps for more advanced Spanish learners:
Aprender a Leer – Silabario helps kids establish the building blocks of reading in Spanish sight and sound, through working with syllables.
(Free)
Lee Paso a Paso teaches phonics, beginning with vowels, then syllables, and then words. There are lots of games and activities for each skill.
(Free)
Cuentos Clásicos – A collection of online stories to read, with 34 classic stories and fairy tales in Spanish, some with pictures.
(Free)
Jakhu Cuentos allows you to access dozens of animated stories with Spanish text and audio.
(Free)
Mundo Lanugo puts young learners in touch with Hispanic culture and Spanish language, through games and play.
(Free)
See the complete list with previews here: Top Spanish Apps for Kids
LEARN SPANISH ONLINE WITH SONGS
First, let's start with five Spanish playlists on Spotify:
Here are five of my favorite YouTube channels songs in Spanish:
If you would like to access lists of songs by theme (numbers, colors, greetings, etc.), see my huge collection here!
LEARN SPANISH WITH KIDS ON YOUTUBE
These YouTube channels (except for Calico Spanish) assume that viewers have at least some exposure to Spanish. Remember, you can always slow the speed on YouTube to make it more comprehensible.
These channels are designed specifically for beginners and learners:
See the entire list here: The Best YouTube Channels for Spanish Learners. 
FREE SPANISH SERIES AND CARTOONS
Get in lots of listening with some comprehensible learning shows! TIP: You can slow down the videos in YouTube by selecting the settings button in the lower right corner.
Try these Spanish options for young children:
For older learners, here are some interesting learner-series for teens and pre-teens:
Also see these lists: Spanish Cartoons on Netflix and G and PG Movies in Spanish 
ONLINE SPANISH LEARNING WEBSITES FOR KIDS
Get in lots of listening with some comprehensible learning shows! Try these Spanish options for young children:
ÁrbolABC Literacy activities similar to ABC Mouse, but in Spanish.
Spanish Town The site is newly designed, with lots of games and activities.
Online Free Spanish divided by level, this site offers a variety of activities for practicing vocabulary.
For older learners, here are some helpful websites:
StudySpanish covers basic grammar concepts, from novice Spanish to advanced Spanish levels.
Video Ele, is an incredible resource for the entire family. It's a catalogue of videos with simple audio, divided by by topics and levels.
Mango Languages is a comprehensive site (also an app) that teaches students Spanish in a sequential context.
PODCASTS FOR KIDS LEARNING SPANISH
Most podcasts designed for younger kids are designed for at least intermediate, if not advanced Spanish speakers. But here are some good podcasts you can try out and see how they work for your children!
For older Spanish learners, you can try these free designed-for-learners Podcasts:
 Duolingo has a story-based podcast created with learners in mind.
Notes in Spanish teaches conversational Spanish through two hosts (a native speaker and a Spanish learner).
Discover Spanish provides lessons in conversational phrases through 15-minute sessions.
Coffee Break Spanish is partially free, and you can access traditional-style lessons for beginners.
FREE PRINTABLES FOR KIDS LEARNING SPANISH
Here are some sources for printing free Spanish learning materials to use at home.
Here are printable resources for older learners: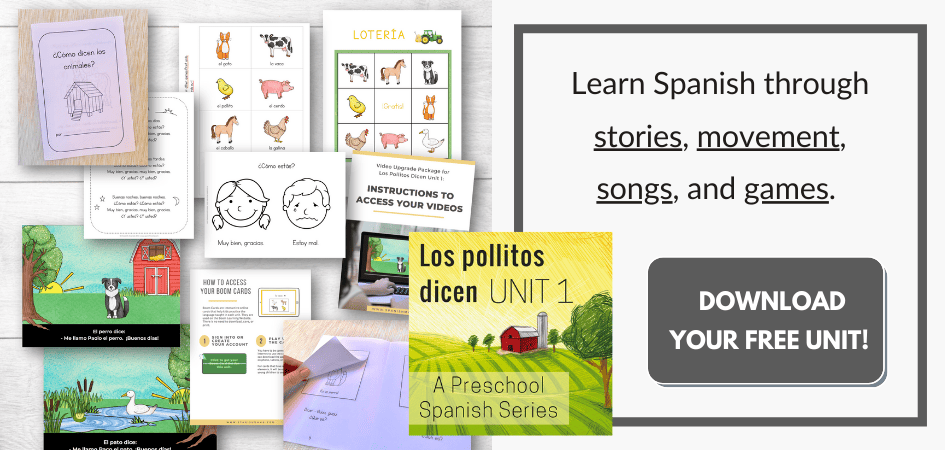 RESOURCES FOR PARENTS TO TEACH KIDS SPANISH
These are my top blog posts for teaching kids Spanish and raising bilingual kids:
Check out these online resources to ask questions and learn more about teaching Spanish:
SPANISH SOCIAL MEDIA LEARNING CHANNELS
If you would like to bring some Spanish into your daily life, here are some fun social media channels to follow and keep your motivation up with your kids!
Instagram:
Twitter:
Join the newsletter
Want to stay in touch and hear from me weekly?

Sign up now and I'll send these 5 freebies your way!