Join my mailing list & hear regularly from Spanish Mama.
Not Sure WHERE TO START?
Spanish has spilled into every part of my life.
That's why this site has a little bit of everything: from preschool to high school, from students at school to my kids at home.
Click here to get oriented and find what you need.
D oes the tired refrain "I took three years of Spanish and can't speak a word" make you crazy? Do you want MORE?
Bienvenido. This site is for you.
I assumed I'd always belong to the "three years and nothing" crowd. But living in Peru, the magic happened: I began to speak Spanish. I fell in love with the culture, the language, and my Peruvian husband.
I knew I wanted my kids to grow up bilingual, for my students to feel the same magic I did. It's not been easy, but there's good news! That MORE? It's possible. Not because I'm a master teacher, and not because you have to be one. You just need to be in touch with the good stuff: wisdom from those farther down the road, and resources packed with living language. You're busy teaching; let me dig it all up for you and share it here.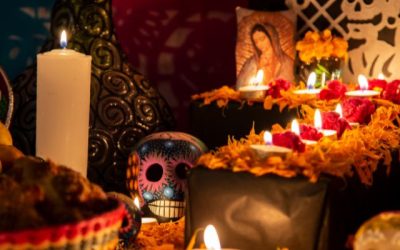 Inside: An overview of a Day of the Dead altar, and what each element in an ofrenda means. Day of the Dead welcomes the temporary return of souls from the afterlife, during November 1 and 2. Dí de Muertos is mainly known as a Mexican holiday, but versions...